B2B marketing is a complex process that requires careful planning and execution. It involves targeting other businesses rather than individual consumers, making it a slightly different ball game altogether.
In this detailed guide from VH-info, we will explain everything you need to know about B2B marketing, including how it works, its importance, and the difference between B2B and B2C marketing. We will also explore some of the most popular types of marketing strategies, including B2B, and provide examples of companies that have successfully implemented them.
Additionally, we will answer some frequently asked questions about targeting B2B customers and creating content for B2B marketing. So whether you're just starting out or looking to refine your existing B2B strategy, this comprehensive guide is sure to help.
What is B2B Marketing?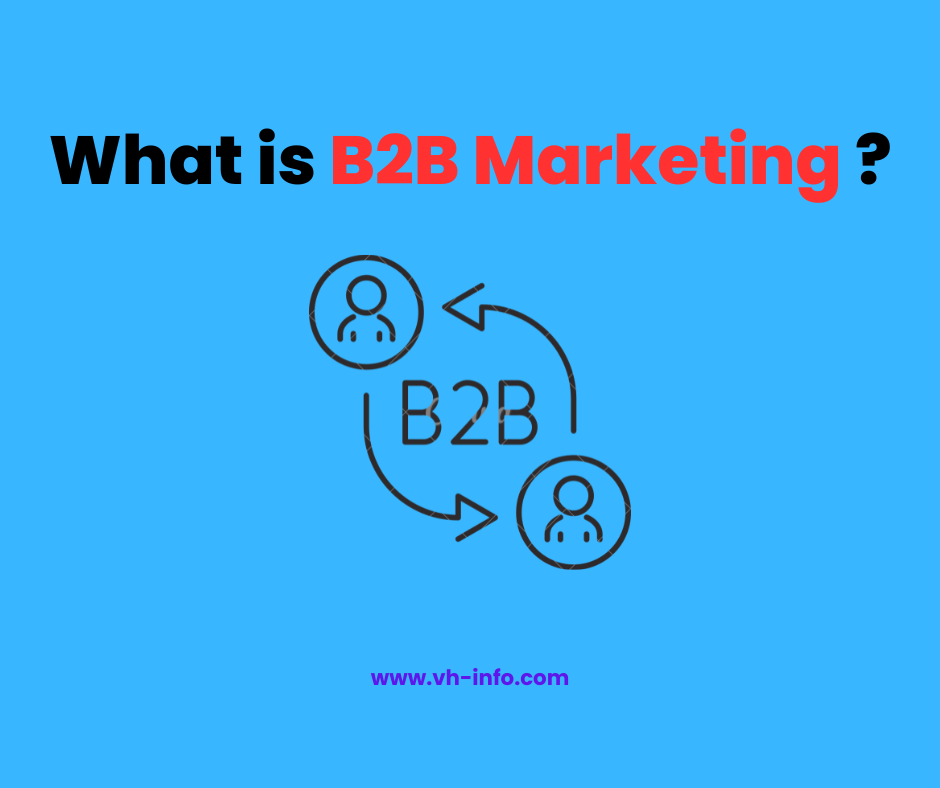 B2B marketing stands for business-to-business marketing. It's a marketing strategy used by one business to target and sell products or services to another business, rather than to individual consumers.
B2B marketing focuses on businesses as customers, aiming to help them improve their operations and increase profits through effective marketing activity, also known as a digital marketing strategy.
This involves understanding business needs and pain points and positioning products as solutions, such as office supplies for remote or self-employed individuals. B2B marketers use tactics like content marketing, email campaigns, events, and social media to connect with decision-makers at potential client companies, also known as potential buyers.
The goal is to educate prospects and convince them to purchase the B2B offerings through effective marketing trends, such as influencer marketing. B2B marketing often has longer sales cycles than consumer marketing and relies heavily on developing relationships with business stakeholders. 
Let's make this simple. B2B marketing stands for business-to-business marketing, is a strategy where one company markets its products or services to other businesses rather than individual consumers.
It's distinct from consumer marketing and aims to help businesses improve profitability and efficiency through specialized offerings.
Clearer?
Now let's see how it works.
How does B2B marketing work?
B2B marketing follows a similar buyer's journey to B2C marketing, guiding prospects through each step. It starts when a business identifies a problem it needs to solve, like needing help managing a spike in demand.
The business researches different solutions and providers that could potentially help. B2B marketing aims to make sure the business learns about and evaluates your offering in this research phase of the buyer journey. Messaging highlights the specific business problems you can solve for them and guides them through the buying process.
The prospect then evaluates the shortlisted options, comparing features, capabilities, and value propositions. B2B marketing provides demos, trials, and content to showcase your solution and help position it as the clear top choice. Finally, the business selects and commits to purchasing from you.
Effective B2B marketing navigates prospects through each step – making your brand visible early, showing your value, facilitating hands-on evaluations, and ultimately convincing the prospect your product is a must-have that will benefit their business.
What is the Importance of B2B Marketing?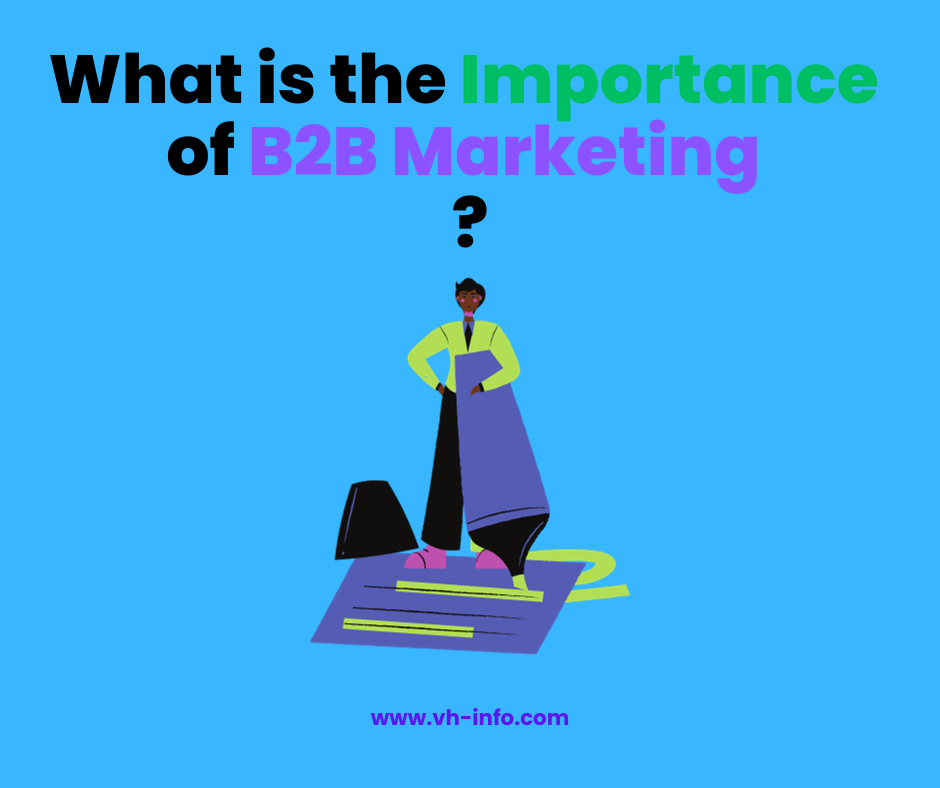 Here are the key points on the importance of B2B marketing:
Generates leads – B2B marketing drives lead generation by putting your brand and offerings in front of potential business customers. Effective campaigns make prospects aware of your solutions.
Builds brand awareness –

Multi-channel B2B marketing builds recognition of your business among target accounts. It establishes credibility and trust in the marketplace.

Educates buyers –

B2B marketing informs prospects at every stage of the buyer's journey. Content and messaging addresses pain points and demonstrates value.

Differentiates from competitors – Strategic marketing shows how your business is better than alternatives. It communicates your unique value proposition.
Develop relationships –

Nurturing leads over time through personalized marketing fosters meaningful relationships with prospects.

Closes sales –

The ultimate goal of B2B marketing is to drive conversions and sales. Every campaign should focus on moving prospects down the funnel.

Grows revenue –

More leads and more sales translate to business growth. B2B marketing generates the pipeline needed to expand revenue.

Provides ROI –

With strategic initiatives, B2B marketing delivers significant return on investment from increased deals.
What is B2B Sales?
B2B sales refers to the process of selling products or services to other businesses, rather than to individual consumers. B2B sales involve direct outreach to decision-makers at companies to demonstrate how your offerings can benefit their business needs. Sales reps establish relationships with prospects, understand their pain points, and position products as solutions.
They use tools like demos and free trials to showcase value. B2B sales are typically more complex than B2C sales, with longer sales cycles and more stakeholders involved in purchases. Multiple touchpoints are required to educate buyers and guide them to purchase. Negotiation is also a big part of B2B sales cycles.
At VH-info, most of our work is done with other businesses too. So we get what B2B is all about. 
B2B sales are all about consultative relationship selling focused on ROI, with reps acting as trusted advisors on how their solutions can help clients meet business objectives.
What is the difference between B2B and B2C marketing?
Here is the comparison between B2B and B2C marketing:
| | | |
| --- | --- | --- |
| Category | B2B Marketing | B2C Marketing |
| Target audience | Businesses | Individual consumers |
| Product type | Business goods & services | Consumer goods & services |
| Buying process | Long, complex, involves multiple decision makers | Shorter, simpler, involves individuals/households |
| Purchase frequency | Less frequent, higher value | More frequent, lower value |
| Marketing channels | Trade shows, networking events, direct sales | TV, radio, print, digital, retail |
| Marketing messages | Fact-based, focused on ROI and problem-solving | Emotional, lifestyle-focused |
| Personalization | Highly customized messaging | Mass marketing, some personalization |
Types of B2B Marketing
The different types of B2B Marketing are as follows:
B2B Email Marketing
Email marketing involves sending targeted emails to prospects and customers to build relationships and promote products. Useful email tactics in B2B include drip campaigns to nurture leads, special offers to past buyers, and personalized messages matching content to interests. Email establishes connections and keeps your brand top of mind.
B2B Traditional Marketing
This includes print, TV, radio, and direct mail marketing. Traditional tactics help raise brand awareness and reach B2B audiences through channels they still utilize. Clever print ads in industry magazines or targeted direct mail campaigns can engage prospects.
B2B Digital Marketing
Digital marketing uses the internet, mobile, and social media to promote brands. This allows targeted, measurable campaigns through platforms like paid search, display ads, and affiliate partnerships. SEO also helps B2B companies get found online. Digital marketing enables accurate targeting of key decision-makers.
B2B Content Marketing
Creating and distributing valuable, relevant content is an effective way to attract B2B prospects. This content educates buyers and positions the brand as an industry thought leader. Content comes in many forms like blogs, ebooks, case studies, and webinars.
B2B Social Media Marketing
Active social media profiles on platforms like LinkedIn and Twitter enable B2B brands to establish connections, demonstrate expertise, and generate leads. Social campaigns need to be strategic for B2B, focused on relevant content and engagement.
B2B Personal Selling
Personal selling involves direct interactions between sales reps and prospects. This could be through in-person meetings, calls, presentations, demos, trade shows, and more. Personal selling builds relationships critical in B2B sales.
Top 10 B2B Marketing Strategies
When it comes to B2B marketing, there are several effective strategies to consider.
Research
In modern marketing, good research is important. It includes marketplace and brand research which gives necessary information for decisions. Research helps with decision-making and shows how well things are going. It also helps understand clients better, so you can serve them better. Research also helps with business performance and guides services. Marketing is more effective when there is good research.
Advertising
B2B marketing involves promoting professional services in various ways. Platforms like industry publications, social media, and search engine marketing(like Google Ads) can be used. Advertising, such as a targeted marketing campaign, is not just about promoting services but also improving expertise and visibility through content downloads. Choose methods that are suitable for professional services like LinkedIn and industry-specific advertising as they lead to higher conversions at lower costs. Facebook may not be useful for professional services, but the choice of advertising type depends on budget, ad objectives, targeting, and industry specialization.
Social Media
Social media is crucial for professional services. More than 60% of buyers use it to research providers, instead of traditional referrals. Referral dynamics have changed, with 17% coming from social media interactions. This platform amplifies your reputation, expertise, and content reach, making it essential to have a strong social media presence on major social channels. You can network, connect with influencers, and monitor your brand through social listening. Don't be afraid to experiment with different social media channels until you find something that clicks. It's essential for business growth.
Referral Marketing
Referral marketing in professional services has changed. Over 81% of providers get referrals from non-clients. These referrals come from a firm's reputation for specific expertise. You can create a brand that is known for its specialized knowledge by using content marketing with other strategies. This helps you get more referrals and new business opportunities even from people who haven't worked with you before.
Search Engine Optimization (SEO)
B2B marketing involves online marketing, where Search Engine Optimization (SEO) is important. SEO helps in getting more digital leads and increased profitability by helping your website appear more prominently in search results.
There are two main components of SEO which are On-site SEO and Off-site SEO. On-site SEO uses specific keywords to describe your website to search engines while Off-site SEO involves building links to your site to increase its authority and credibility (That's what we help businesses with!).
These aspects help potential customers find your expertise and services easily. High-growth firms consider SEO highly effective.
Niche-driven Strategy
In business, it's important to specialize and target a specific niche. Companies that grow quickly focus on a certain area where they become experts and leaders. This helps them stand out from their competitors and streamline their marketing efforts. Specialization is an effective differentiator for your business strategy.
A High-Performance Website
In today's professional services landscape, a high-performance website is vital. It's not just a digital brochure; it's the central hub for your online presence and showcases your expertise. Your website plays a key role in building visibility and trust with potential clients who search for service providers online. Educational content and offers on the site can convert visitors into leads, nurturing them through the engagement process. The design of your website influences audience perceptions and distinguishes your business. Responsive design ensures usability on various devices, including mobile, reaching a broader audience and staying competitive.
Marketing Automation, CRM, and Lead Nurturing
Marketing Automation simplifies tasks by using technology to automate processes. It combines all your online marketing channels into one system for managing campaigns. Choosing the right software is crucial for your firm's needs and size.
Customer Relationship Management (CRM) software helps organize and track client information, keeping your operations organized as your firm grows. It centralizes client data, allowing different departments to access and synchronize their efforts.
Lead Nurturing goes beyond CRM, including your website and email marketing. Email campaigns deliver offers tailored to buyer roles at different buying stages, providing relevant content over time. This educates and nurtures leads effectively.
Testing and Optimization
Testing and optimization are crucial in your marketing strategy. Research forms the foundation of your marketing, while testing and optimization serve as your guide. Keep testing your campaigns and adjust based on what works best practices. This includes A/B testing for emails and landing pages to determine which variations convert users more effectively. Also, check how your emails render on different mobile devices to ensure they appear correctly.
Analytics and Reporting
Analytics and reporting are essential to measure marketing effectiveness and marketing ROI. Use proper tools to collect data from different channels like your website, social media, and SEO. Google Analytics is useful for tracking website traffic. Analyze metrics with testing to gain insights on what works and refine marketing strategies for better results. Transitioning from art to science allows informed decisions for better outcomes.
Examples of B2B Marketing
Here are some examples of effective B2B marketing strategies and tactics:
Account marketing: Kindred Healthcare-

Kindred Healthcare does account-based marketing to land deals with healthcare systems. They research target accounts, identify key players, and customize campaigns for each organization. Highly personalized outreach builds relationships.

Social Media Marketing: Adobe- Adobe engages followers on LinkedIn and Twitter by sharing relevant content, resources, and tips. This positions them as an industry thought leader. Their social media drives website traffic and lead generation.
Content Marketing: Shopify-

Shopify creates blogs, guides, podcasts, and more to attract e-commerce businesses. Their educational content solves problems for their target customers. It establishes Shopify as a trusted partner.

Digital Marketing: Mailchimp-

Mailchimp runs paid search and display ads to promote its email marketing platform to businesses. They focus ads on keywords their customers search for.

Email marketing: Lenovo-

Lenovo uses email to nurture subscribers with relevant content over time. Emails promote their latest computing products and guide prospects towards purchase.

Event marketing: Panasonic-

Panasonic hosts conferences and pop-up experiences to showcase products and build connections. Events provide an interactive forum for demonstrating solutions.

Client Testimonials: Venngage-

Venngage features client stories and quotes on their website. Testimonials build trust by highlighting real customer successes using their platform.

B2B SEO: TravelPerk, Google-

TravelPerk and Google optimize their sites for B2B keywords to get found for relevant searches. Ranking for terms like "

business travel software

" drives targeted traffic.

Inside Influence Marketing: IBM-

IBM's influencer program enlists employees as brand advocates sharing content on social media. It amplifies their marketing reach and expertise.

B2B Referral Program: Blackbaud-

Blackbaud incentivizes existing customers to refer their contacts through discounts. Referrals convert well, resulting in expanded business.
FAQ's:
How do you target a B2B customer?
B2B is when businesses sell to other businesses.
To do B2B marketing, you need to find the important people who make decisions at the companies you want to sell to. Learn about what issues they have in their business. Then create content and messages that are specific to those people at the companies you want to sell to, using tools such as a SWOT analysis to develop your brand positioning and drive brand recognition.
Utilize marketing tools such as CRM (customer relationship management), team collaboration tools, lead generation tools, market intelligence tools, psychographic data, and a marketing plan to streamline the marketing process and target B2B customers for the best results. Show them how your product helps solve their problems.
What type of content should I create for B2B marketing?
B2B marketing requires creating educational content that adds value to your audience. You can use case studies, ebooks, videos, and blog posts to share industry insights and showcase services. Make sure the content directly addresses your B2B customer's needs and interests. Keep the tone professional, and optimize each piece of marketing content for search visibility.
Which social media is best for B2B?
LinkedIn is the best social media platform for B2B marketing. With over 900 million professionals, LinkedIn provides access to a huge audience of decision-makers. 4 out of 5 users drive business decisions, making it the prime channel for generating B2B leads. Most organic and paid B2B content performs best on LinkedIn compared to other platforms, including LinkedIn ads. While Facebook, YouTube, Instagram, and Twitter have B2B uses, LinkedIn should be the primary platform for any B2B brand.
Conclusion
In conclusion, B2B marketing is a complex and multifaceted strategy that requires a deep understanding of your target audience, their needs, and the most effective channels to reach them.
By implementing the right B2B marketing strategies, such as research, niche-driven strategies, high-performance websites, SEO, social media, advertising, referral marketing, and analytics, you can effectively promote your products or services to other businesses.
It's important to remember that B2B marketing is different from B2C marketing, and it requires a tailored approach. Look to successful examples of B2B marketing, such as account marketing by Kindred Healthcare, social media marketing by Adobe, content marketing by Shopify, and digital marketing by Mailchimp, for inspiration.
If you have any questions about B2B marketing or need assistance in developing your strategy, feel free to reach out to our team of experts.