The vast diversity of SEO is both its beauty and its curse. There are so many directions to go in and viewpoints to take. Collaborations with customer relationship management (CRM) systems were the subject of a section of this article.
Did you know? Search engines are the origin of 68% of all online activities.
When you consider all CRM software can achieve for you, it perfectly complements the aims of an efficient SEO plan. The two ought to cooperate closely to boost each other's success.
This is why we've provided five straightforward yet powerful techniques to leverage CRM software to improve the SEO of your website, but first, let's talk about what CRM is and how it helps in SEO.
CRM (customer relationship management) is software that small, medium, and large organizations can use to improve interactions with their clients and nearby companies. 
How might CRM software assist you in enhancing the SEO of your website? 
CRM software is not typically included on a list of SEO-related technologies. There's a solid reason: simple optimization may be done without CRM software. However, CRM software can be helpful if you want to advance your SEO strategies in several ways.
According to a study, 91% of companies with more than 11 employees use CRM to develop better marketing strategies.
As a result, now that we are clear on the basics, let's move on to discussing the strategies that a company may use to increase the SEO of its website.
1) Create valuable content on your blog
CRM software, as previously noted, is a tool that records all of your communications and interactions with prospects and clients.
As a result, you should pay close attention to such talks daily because they can give you the pertinent keywords and helpful content suggestions that the users of your goods will find helpful.
Now that you may be asking how to do it let me explain.
The interactions you have with your clients, as recorded in the CRM database, will give you a good notion of the problems they encounter most frequently, which will assist you in comprehending their concerns and the type of response they require.
As a result, it will be considerably more straightforward for you to produce content that will benefit the users of your products if you have access to precise consumer information through a CRM.
2) CRM creates a positive online reputation
CRM software or programs do not only target current customers. It can be used to get in touch with customers and ask them to evaluate your goods or services on Google or any other search engine.
One of the variables that search engines consider when ranking websites is reviews, although it's sometimes about something other than that. When a potential consumer decides whether to purchase your goods or service, honest and helpful evaluations can be highly influential.
Buyers would feel more at ease purchasing your product if they knew that it was something other people were purchasing and discussing online. 90% of individuals, according to Planet Marketing, read reviews before purchasing a specific good or service.
In conclusion, your CRM may help your local and international SEO efforts by reminding users to leave a comment and utilizing a solid database of former customers.
3) Improves the customer experience
A CRM system is explicitly designed to enhance your business's client experience, from the first stages of the sales funnel to the after-sales services and all in between. You may increase your SEO by enhancing your user experience.
User experience is closely related to SEO's core principles. When people look for words or phrases, they're looking for knowledge to fill a need or discover answers to queries. You may more effectively adapt your content and keywords to address your client's needs if you know what they want and need.
Knowing your clients is the first step in providing a positive customer experience. Use that knowledge to improve your SEO. You can focus your SEO efforts on a more realistic target of people who share the demands and desires of your existing client base by using the information about your existing consumers. Promoting consumers like them is a fantastic idea since you already know that they utilize your goods or services.
Lower bounce rates, more organic traffic, and greater engagement with your CTA result from better, more focused content. Relevant content that addresses what people want to know can only help your SEO efforts
4) Lock down more opportunities for guest blogging
One of the most efficient, well-liked, and prominent methods for obtaining high-quality connections that boost the SEO of your website is guest blogging.
After purchasing CRM, you can use the software's data to search for sites that welcome guest writers and get in touch with them, or you can look for people who might write for your corporation's or brand's blog (if your website allows guest posting), and then approach other webpages for cross-promotional activities.
5) Comprehensive keyword research and optimization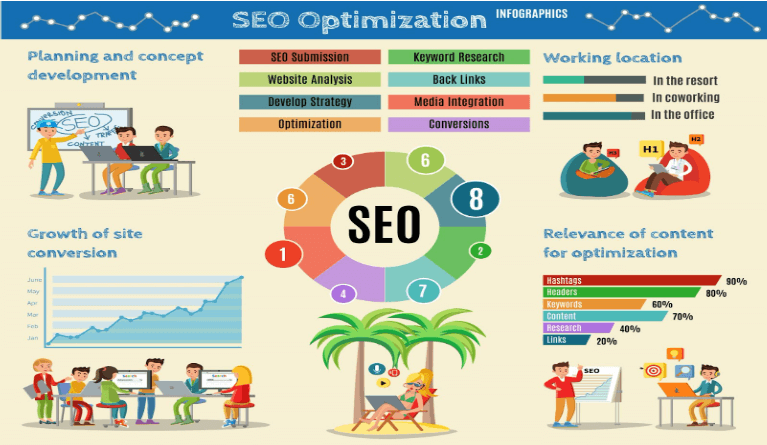 Keywords are the first factor that comes to mind when we discuss SEO. In order to outrank the competition, nearly all articles and blog posts are optimized using high search traffic and pertinent keywords.
This is because if you appear first in the first SERP for a term with a high search volume, the keyword will generate more clicks, boosting traffic to your website using high-quality backlinks. 
Therefore, finding the appropriate keywords and applying them to optimize your content with them is the core duty of any SEO planning for any website, regardless of your SEO strategy (on-page, off-page, or technical SEO).
Although many platforms are available for free keyword research, their suggestions for keywords are based on searches made over the "entire" internet.
Therefore, you must limit your audience to just your clients if you want to target them and improve your content for them. What more straightforward method to achieve this than using user-friendly CRM software?
When you purchase a CRM, you gain access to a potent business growth tool that records all your interactions with leads, prospects, and clients.
You can now undertake research on each of these keywords individually and expand your database if you pay close attention and carefully evaluate the terms your clients and prospects have used, list them all together, and then move on to creating helpful content that can benefit your consumers.
So why are you still waiting?
The bottom line of your business will rise if you purchase CRM and discover helpful information about your leads and clients that you can use to start a business growth journey while also enhancing your website's SEO.
Customer relationship management is the ideal complement to all the SEO technologies you currently employ. It is complementary and can assist you in taking a unique approach to well-known SEO strategies.
CRM is giving a new dimension and deeper understanding of our users, and in the corporate world, it should not be viewed as a luxury but as a need. Many different CRM solutions are available today, some of which even provide free trials for small businesses and startups.