Getting your company in front of the correct customers may be the hardest you'll ever have to accomplish. Even though many customers visit your site every day, relatively few return. And in this way, the majority of lead generation services are ignored.
To grow potential customers, businesses use numerous lead-generation techniques and tools. Email marketing is one of the strongest techs for generating leads and boosting sales. 
According to studies, email marketing has a $43 return on investment for every $1 spent. This statistic powerfully demonstrates the power of email marketing.
Here, we've covered the most effective tools for generating leads through email marketing.
But before we get deeper into the tools of email marketing lead generating, let's quickly understand what email marketing lead generation is and what the practices are to generate leads while choosing email marketing.
What is email marketing lead generation?
Email marketing lead generation is a technique for gathering contact information from potential clients for a firm.
The primary goal is to compile essential information on potential prospects, such as phone numbers, names, and email addresses, to further nurture them and convert them into customers.
Obtaining email leads is only one aspect of an email lead-generating plan. It also involves nurturing the leads gathered to convert them into paying clients. 
Ultimately, Lead generation can boost sales and client engagement.
Practices to generate leads while choosing an email marketing
A) Do Automated campaigns
Automating a difficult task is an excellent method to avoid doing it.
This also holds for email automation. Simply automate your campaign rather than spend countless hours sending out emails manually. With automation, you may even target particular subscribers on your email list.
You can increase the number of leads your email campaigns create by sending targeted messages in email marketing to particular individuals in your email list.
You might wish to invest in quality software to handle your email automation. Even though it can cost a bit extra, it's a terrific investment overall. You will save so much time with email automation that the initial investment is well worth it.
Read More:Best Email Marketing Lead Generation Tools in 2023
B) Create a link for the landing page 
Take your audience there rather than just telling them where to go. Linking to an appropriate landing page is a beautiful method to accomplish this.
The readers will go directly to where you want them to go and improve when they don't have to search for your page. Make sure the blog or website you are connecting to is appropriate. 
Instead of sending readers to a particular web page so they can view more information and avoid having to continuously surf the site, connecting to a site can sometimes be advantageous to create some leads.
Linking to landing pages facilitates the use of data in management decisions, before linking, examining the traffic of the most popular pages.
C) Utilize Social Media Channels 
Not fully utilizing all the existing social media tools and platforms may be one of your worst errors, right?
Utilize all available channels to promote your content to all site visitors and encourage them to opt-in for emails and material by having them subscribe.
This is still one of the simplest methods for attracting new subscribers and maintaining contact information collection. Most profitable marketing companies will use useful content to attract customers across all their pages.
Read More:The Pros and Cons of Social Media for Business and Marketing
D) Clearly state the call to action.
An essential component of your marketing plan (CTA) is the call to action.
The CTA is the critical component of email marketing because it motivates your consumer to act on his thoughts and do what you need. The CTA button must be simple to see, difficult to miss, and enticing to click. It must evoke a desire to click on it as soon as the user views it.
One of the most severe errors you can make with prospects in email marketing is not having a CTA. Ensure your customers cannot overlook the CTA when they receive it in your email as part of your email marketing campaign.
Now, it is time to select the top email lead generation tool. Below we have listed the top 5 email lead-generation tools that may provide highly qualified leads.
Read  More:
Tools of email marketing lead generation
In 2022, using software to generate leads through email marketing will save time. Let's go over each of the main points individually-
Clearout is the ultimate tool for lead generation. It offers email finder, email verifier and prospecting services that helps you build a verified and high-quality email list, and help you maintain your email list hygiene. It can find email addresses by name and domain name, check for validity, identify and remove duplicate entries, detect temporary emails and gives a confidence score for the email deliverability. Clearout also offers data enrichment features. Using it's LinkedIn Chrome Extension and in-app search, you can find your ideal customers on or off the LinkedIn platform.
Key features Clearout :
Point of capture email verification through JS widget & WordPress plugin

Instant & bulk email verification & finding 

API support for email finder & email verifier

Integrates with multiple ESP's and CRM like HubSpot etc.

Chrome Extension to generate leads from LinkedIn
Data Enrichment capabilities through its in-app search
The cost:
Free – Free trial with 100 credits

Pay as you go – Starts with 3000 credits for $21.

Monthly/Annual Subscription – Starts with 5000 credits from $31.5
EasySendy pro is the hybrid email marketing tool for Marketers to send and deliver high-end email campaigns to drive 3X ROI.
With EasySendy, Effortlessly launched various campaigns to engage subscribers and customers with autoresponders and automated warm-up email campaigns. You can also manage and control your teammates' sub-accounts with EasySendy Pro.
Key Features of EasySendy
Connect multiple email delivery API relay servers, SMTP email delivery services and email list verification tools

Run Email Warmup Process

Run A/B Split test along relay servers

Create Lists with Searchable Custom Fields

Easy to Use Email Campaign Editor

Create and Embed Email List Forms

Single/Double Opt-in/Opt-out for Email Lists

Use RSS/JSON Feeds in your Email Campaigns

Wide Range of Email Template Tags

Bounce & Complaint Emails Processing

Advanced Autoresponders

Deep Email List Segmentation

Inliner CSS and Minify Parser
Pricing : EasySendy Plans starts from $19 per month. They do have a life time free trial version as well.
Add easy-to-embed Web Pop Forms to capture email subscribers from websites, build custom subscriber pages, edit email templates with flexible drag and drop editors, do subscriber segmentation, and more. Connect your app / website through APIs, Google Analytics, WordPress and Zapier.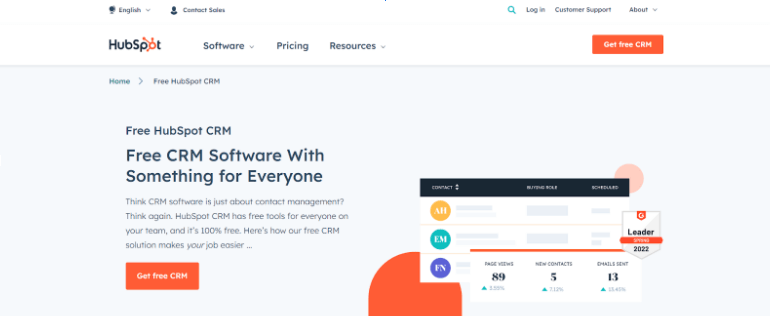 Hubspot is a CRM platform that provides outstanding customer service in one location. Hubspot is a comprehensive set of tools that enables companies to increase traffic via marketing automation, find new prospects, and promote them via email and advertisements. 
It has a long list of advantages that make it worthwhile even if it is on the more expensive end of the range.
Hubspot allows you to run profitable marketing campaigns, draw visitors, and turn them into customers. Thanks to several tools, you can handle their social media accounts and email campaigns and concentrate on lead creation. It's the ideal option for several small companies.
Key features of Hubspot
Free web hosting

Optimize inbound marketing strategy

Marketing Analytics

Chatbots and live chats for conversation

Ad management

Email tracking software

Meeting scheduler
Pricing: Hubspot charges $50 to $3200 each month.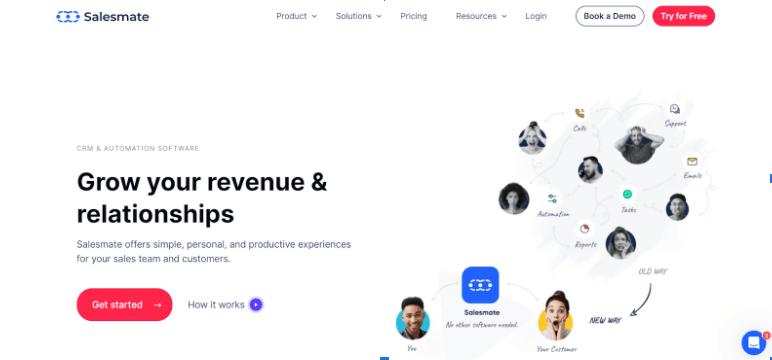 Salesmate is a unified customer journey platform that helps you to automate your sales, marketing, and customer support access.
Lead management, meeting scheduler, email automation, email sequences, live chat, marketing automation, and web forms are just a few of the practical features it offers to assist you in attracting qualified leads, increasing sales, and building strong bonds with customers.
Salesmate is an amazing email sequence software that offers effective email marketing and automated support at a reasonable price. Marketers can send massive or bulk emails, create automated campaigns, run A/B tests, and monitor email performance metrics like (CTR) click-through rates, open rates, unsubscribe rates, and many others.
Pricing- Salesmate has four plans: Starter ($12), Growth ($24), Boost ($40), and Enterprise(custom). They also offer a 15 days trial.
OptinMonster has a popular lead generation platform utilized by writers, eCommerce websites, marketing firms, and small companies. You can perform many things, including making targeted marketing campaigns and efficiently designing emails using a drag-and-drop builder.
You may also convert website visitors leaving your site into subscribers and buyers with the OptinMonster popup designer and converting toolkit.
You can quickly and easily create engaging popup advertisements, email newsletter forms, notification bars like the hello bar, gamified spin-a-wheel opt-in forms, and other engaging popups for your website using OptinMonster's simple popup generator.
Key features of OptinMonster
A drag-and-drop builder

Campaign initiators

Integrated seamlessly

Relevant insights

Targeted campaigns
Pricing: There are four options. Basic ($9), Plus ($19), Pro ($29), and Growth ($45) are all available.
Key features of Constant Contact
Email marketing

Template emails

Reporting in real-time

Automate your Emails

 Make customer surveys
With its user-friendly features, Constant Contact is a good email marketing tool that aids in the creation of email campaigns. This all-encompassing platform allows you to organize and carry out your complete marketing campaign.
With this well-liked email marketing and automation service, users may develop and send personalized emails to customers to increase conversion rates. Customers manage their websites and social media accounts to draw possibilities and turn them into potential leads.
Small companies searching for monitoring, email segmentation, website building, and SEO tools will find it most useful. By developing and sending a new email campaign with Constant Contact, you can enhance your B2B prospecting efforts and aid in customer conversion and engagement. You may also optimize the mobile-optimized templates using real-time analysis!
Pricing- There are two options available: Core ($9.99) and Plus ($45).
Approximately 90% of marketers use emails as their primary lead-generating tool. You can see how important email marketing is for generating leads. Businesses today seek flexible software to help them during the sales process.
Ready to move forward? Choose a few tools from the abovementioned list that you prefer, and use their free trials or subscriptions to see if they meet your demands.
Hitesh Sanandiya
Writer Information
Hitesh Sanandiya is a Co-founder & CEO at vh-info. He loves to talk about link building, seo & digital marketing strategies. In his free time, He likes to read & stay updated on the latest digital marketing trends!
You can always reach out to Hitesh on LinkedIn