Link building has long been a part of search engine optimization (SEO).
However, link building strategies have evolved into sophisticated practices in the 24 years that Google has existed.
Initially, link quantity was the most crucial factor.
The higher your site ranked on page search engine results, the more links it had (SERPs).
Google now prioritizes quality links over quantity to ensure that websites with valuable content are ranked higher.
Because of this shift in emphasis, link building has become time-consuming but critical.
Quality links are required for websites to rank, but site editors no longer link to a page "just because."
Link builders must now concentrate on locating relevant sites for backlinks and providing valuable content to that audience.
To help rank their websites in the SERPs, link builders must invest time, thought, and energy into developing long-term link building strategies.
How To Create Your Link Building Strategy
Link building strategies require some upfront legwork, but once you've done that, you've set yourself up for significant success.
If you're a SaaS company then you should try the page one hijacking method of link building. Otherwise Consider the following steps when developing your link-building strategy.
Before deciding which sites to pursue or how many links to obtain, you must first understand what your site does and does not do well.
Decide whether you should prioritize backlinks or keyword research (or both). Once you've determined what your site lacks, you can create assets to aid your strategy.
Determine your target audience
You can create a list of other sites your audience may visit by understanding them.
Begin by examining demographics, behaviors, and interests.
What is essential to your target audience?

How do they look for solutions?

What are they looking for in terms of your product or service?
Audit your existing content
Look for blog posts and other pages that other websites may want to link to.
Consider that most website owners avoid linking to product pages because it appears spammy and advertorial.
Instead, look for educational top-funnel pages. Then, examine your competition's content.
Are there any gaps in the content?
If this is the case, devote some time to creating these pages so that you can compete in the search.
Create a list of target sites
These sites must be relevant to your content, business, and target audience. Prioritize the sites based on relevance and authority to ensure that you first visit the most important sites.
The most important thing to remember is that link building takes time.
To see progress, your strategy must include long-term goals.
Top 5 Link Building Strategies
As with any strategy, it's critical to develop one with your end goal in mind. Link building takes time, effort, and patience.
As the campaign progresses, you must re-evaluate your strategies to determine what is and is not working.
Here are five link-building strategies you can use right away.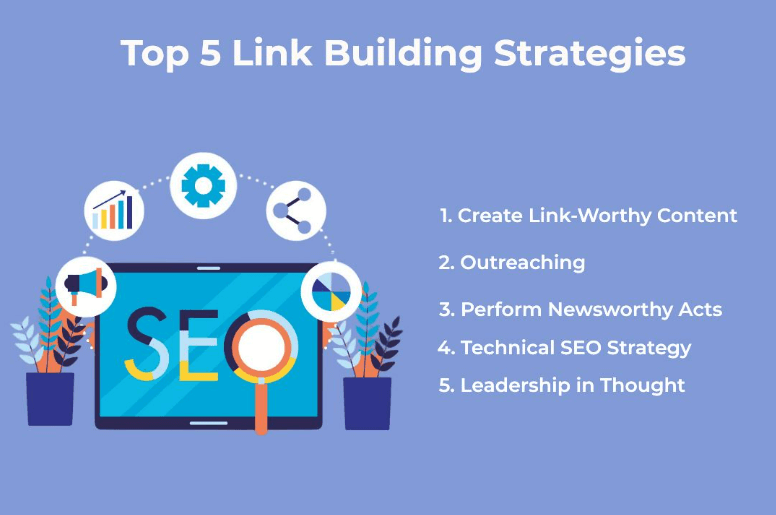 1. Create Link-Worthy Content
You must produce content that people want to link to worthy content with a broad audience and are most likely at the top of the marketing funnel. Make sure to have a great content strategy in place for your future link building campaigns as this would have a broader effect and it can easily increase overall impact from links you build.
Most editors want to link relevant pages to their audience, so the more relevant your page is, the more likely they will link to it.
Content that is worth linking to is also educational and informative. It solves a common problem or answers common questions from the audience.
On the other hand, many SEO experts create link-worthy content by answering frequently asked questions.
To gain backlinks, your content must not only answer questions and solve problems but also do so uniquely and helps in creating best link building strategies.
Examples of link-worthy content include
How-to guides

Trends and data

Research that is beneficial to your industry

Content for Education

Inspirational content for entertainment

Evergreen content
You could audit your existing content to identify gaps if your strategy is to create more linkable content.
Then, by going through the tactics listed above, you can determine which content to begin with and how much you'll require.
The act of asking a site for a backlink is known as outreach. And it is the on of the best link building strategies.
When you create link-worthy content, you must share it with sites you believe will benefit from it.
Obtaining backlinks from high-authority sites is one method of informing Google that your site is an authority on a topic.
Backlinks serve as "votes of confidence" from one site to another.
Backlinks from other websites can also help to broaden your target audience, bringing new potential customers to your website.
Often, outreach consists of SEO specialists sending articles to site editors and explaining why their articles would benefit them.
However, outreach can accomplish a variety of goals, including:
Press releases are used to obtain links from relevant websites

Promote new content

Look for links in existing content

Resolve any unlinked mentions

Outreach can help SEOs, and site editors build professional relationships

While outreach may appear to be a simple practice, there are some best practices to be aware of:
Personalize all of your communications. You don't want to send out canned messages. Lastly, showcasing your expertise with a white-label video conferencing solution can further demonstrate your commitment to seamless and professional communication

Keep it brief and to the point. Site editors don't have time to read through a lengthy email

Explain why linking to your website or article is advantageous to them

Could you provide them with the anchor text? The less complicated you make it for them, the better
3. Perform Newsworthy Acts
This link building strategy may appear hazy, but earning links from a news site has numerous advantages.
Many publications, for example, have a large audience, some of whom are directed to your site.
Furthermore, many publications are experts in their fields, and a backlink from them can go a long way with Google.
While you may believe that anything your company does is newsworthy, it is critical to consider what is relevant for your business and your target publication.
Consider the following approaches:
Organize a gathering

Donate to a good cause

Create a non-profit organization

Develop a new product or service

Announce a new collaboration

Provide a scholarship

After deciding on your newsworthy tactics, you must pitch your idea to contributors, publications, and other media contacts.
Then, it would be advantageous if you could convince them of the significance of your story to them and their audience.
4. Technical SEO Strategy
A technical audit of your backlinks is one way to gain links and structuring the link building strategies for your company.
Links do occasionally break.
Pages are being removed.
Furthermore, site editors are unaware that links to your site are no longer functional.
You can track your backlinks work by performing a backlink analysis on your site.
This strategy employs the following tactics:
Finding broken links:

You can email the site editor the correct link and explain how it benefits their site.

Fixing 404s:

Provide a completely new link to a similar page.

Removing redirects:

Ensure that any redirects lead to the final destination. Remove redirect chains whenever possible.

HTTP vs. HTTPS:

If you recently switched to HTTPS, ensure all HTTP links are updated.
Repairing these issues aids in re-establishing the link between the two sites.
A redirect link or a link to a 404 page has almost no value; reclaiming these links is critical for increasing organic traffic to your site.

Fixing these links makes it easier for bots to crawl and index your site.
A thought leader is regarded as an expert in their field. They are constantly publishing new content and bringing up new ideas in their industry.
As a result, many people are likely to believe them and rely on their content as evidence. As you can see, being a thought leader in your industry has numerous advantages.
Thought leadership content can also help your Google rankings. The more people who use your content as a resource, the more Google will consider you an authority.
Google wants to provide its users with helpful content and thought leadership content fits the bill.
Consider the following tactics to be a successful thought leader:
Blog as a guest on relevant websites

Answering questions on Q&A websites

Making social media content

Developing online courses or certifications

Readers are kept up to date on industry news.

Organize a webinar or a podcast

Remember that thought leadership begins with original research, establishing a solid presence, and staying current on industry news.
Building links isn't rocket science. The link building strategies I discussed above apply to all websites. You only need to carry them out.
Will some work tactics be more effective for some sites than others? Without a doubt. It is your responsibility to put each tactic to the test and determine which works best for you. You can then work on scaling your efforts to build more links with less effort.
Chirag Padaliya
Writer Information
Chirag Padaliya is an Outreach & Link Building Specialist at VH-Info. He likes discussing digital marketing strategies, link building, and off-page SEO. He's learning more about SEO and content creation. In his free time, he loves to watch films, sports and listen to music. He also likes to do exercise and yoga.
You can always reach out to Chirag on LinkedIn