Search Engine Optimization (SEO) is now more important than ever for businesses trying to succeed online in the cutthroat digital environment of today. The caliber and relevancy of a website's backlinks is one of the important variables that can have a big impact on its search engine rankings. You realize the need of efficient link building as an SEO agency  or professional, but maintaining it while providing your other services can be challenging.
The White Label Link Building Services from VH-Info might be used in this situation. In this thorough guide, we'll go through how working with VH-Info may boost your SEO efforts, increase the range of services you offer, and improve the online exposure of your clients.
Understanding VH-Info's White Label Link Building Services:
The leading brand in digital marketing, VH-Info, offers white label link building services that are made to work with your agency's current procedures. VH-Info makes sure that the websites of your clients obtain backlinks that improve their SEO performance by using a solid strategy that prioritizes quality and relevance.
The VH-Info team uses a methodical methodology to find reliable and contextually pertinent websites in your clients' niche. Each client's unique needs are taken into account while developing their strategy, resulting in the best outcomes and satisfied customers.
Why White Label Link Building Services Are Essential for Link Building Agencies:
The firm uses cutting-edge link-building strategies to obtain beneficial backlinks for customers. It provides affordable pricing without sacrificing quality, delivering the highest possible revenues for client agencies.
The emphasis on perfection guarantees the provision of excellent link building services that satisfy customer needs. Excellent customer service puts the needs of the client first and supports them throughout the collaboration. 
The company appreciates meeting deadlines and making sure that link building initiatives are delivered on schedule. Additionally, the service establishes unwavering trust through dependable and open business practices, expertly portraying the client's brand.
Furthermore, the link-building experience of VH-Info significantly enhances the value of your service offerings. You may assist your clients in achieving higher search engine rankings, more organic traffic, and improved brand visibility by taking advantage of their particular knowledge and experience.
How VH-Info's White Label Link Building Services Work:
With our white label link building services, getting started is an easy and straightforward procedure. After getting in touch with us, you'll have an initial meeting to go over the specific needs and goals of your agency. Their experts will work together with you to comprehend the industries of your clientele and create a unique link-building plan.
We keep lines of communication open throughout the campaign and offer thorough reports on the development and outcomes of their link-building initiatives. With this level of openness, you can enlighten and reassure your customers about the value they are receiving.
What are the Benefits of White Label Link Building Services?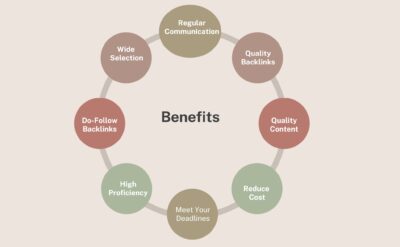 1. High-Quality Backlinks:
Incoming links from well-known and authoritative websites to your website are considered high-quality backlinks. These backlinks are important for SEO and have a large impact on your website's search engine rankings, domain authority, and general online visibility. High-quality backlinks are more useful because they are obtained from reliable sources and are related to your content and business.
2. High-Quality Content:
Quality content is essential for attracting and engaging your target audience and is a cornerstone of effective digital marketing. High-quality content, whether for your website, blog, social media, or other marketing channels, has five important features that set it apart and make it useful to both consumers and search engines. Creating high-quality content requires a deep understanding of your audience, their preferences, and the purpose of your content. Quality content is an ongoing effort, and consistently providing valuable and engaging content can help you build a loyal audience, improve your brand reputation, and achieve your marketing goals.
3. Reduces Cost:
You can save money on hiring and training an in-house team by outsourcing link building to a specialized Link Building service. This cost-effectiveness frees up resources for other critical parts of your organization.
4. Helps You Meet Your Deadlines:
Meeting deadlines is crucial for maintaining a positive reputation with clients. White label link building services ensure that your link building campaigns are executed efficiently and on time, giving you the flexibility to focus on your core services. You can enhance your agency's capabilities, consistently meet your deadlines, and ultimately provide better value to your clients. Effective link building campaigns are crucial for SEO success, and partnering with a reliable white label provider can significantly contribute to your overall marketing efforts.
5. Offers High Proficiency:
Link Building agencies that specialize in link building have the expertise and experience to deliver effective strategies that yield measurable results. Their proficiency in link building techniques can help you achieve optimal outcomes for your clients and achieve better long-term results in the competitive online landscape.
6. Do-Follow Backlinks:
When a website links to another website with a do-follow backlink, it essentially passes on "link equity" or "link juice" to the linked website. This link equity helps improve the linked website's search engine rankings and domain authority.
7. Wide Selection of Publishers:
With access to an extensive network of publishers, white label link building services can secure placements on relevant and influential websites, increasing the exposure of your content and brand. Having access to a broad network of publishers allows the service to target various niches, industries, and demographics, resulting in a more comprehensive and effective link building campaign. 
8. Clear and Regular Communication:
Regular communication in a white label link building partnership, both parties should establish a communication plan that outlines the frequency and preferred channels of communication (e.g., email, phone calls, meetings). Regular check-ins, progress reports, and scheduled updates should be part of the communication plan to maintain transparency and efficiency. Progressive white label link building service understands the importance of communication and prioritises keeping the client agency well-informed, involved, and engaged throughout the entire link building process.
Choosing the Right White Label Link Building Provider:
When evaluating white label link building providers, several factors come into play. VH-Info stands out in the market due to its extensive experience, track record of success, and commitment to delivering sustainable results. Testimonials and reviews from satisfied clients further reinforce the credibility of VH-Info's services, instilling confidence in your agency's decision to partner with them.
Getting Started with VH-Info's White Label Link Building Services:
Contacting VH-Info is the initial step if you're ready to advance your SEO services and boost the internet presence of your clients. Through the onboarding process and throughout the cooperation, their team will make sure that the demands and goals of your agency are accomplished.
Frequently Asked Questions
What is white label link building?
White label link building is outsourcing link building services to a third-party provider, allowing you to resell or rebrand the service as your own, improving your website's search engine rankings.
  Why use white label link building services?
It saves time, resources, and provides expert link building while focusing on core business activities.
How does it differ from private label link building?
White label is anonymous with rebranding options, while private label allows ownership and rebranding.
Are white label link building services suitable for my agency's clients?
Yes, they benefit various clients, improving search rankings and online presence.
How to choose the right white label link building provider?
           Consider experience, backlink quality, reviews, and adherence to search engine guidelines. Research thoroughly before deciding.
Conclusion:
In the end, VH-Info's White Label Link Building Services offer a superb chance for SEO specialists and agencies to expand their solutions and produce outstanding outcomes for their clients. You can concentrate on your core strengths, save time and money, and provide unmatched value to your clients by working with VH-Info.
Act right away and discover the numerous opportunities offered by VH-Info's white label link building services. Improve the SEO performance of your clients while enhancing your agency's standing in the world of digital marketing. Experience the transformative impact of strategic, high-quality link building by getting started right away.
Dipak Ambani
Writer Information