You own an eCommerce store and want to build links, but you don't have time to launch a full-fledged SEO link building campaign.
We understand how you feel because we've been there! That's why we've compiled a list of seven effective  link-building strategies that are simple to implement and will help your eCommerce site rank higher in search engine results pages.
Implementing even one of these strategies can significantly increase the amount of traffic to your website. And if you combine all seven, you'll have even more success!
So, what are you holding out for? Let's get started on improving your rankings right away!
What Is ECommerce SEO Link Building?
Before we get started with the strategies, let's make sure everyone is on the same page.
Building links to your website or blog can have a significant impact on your search engine ranking (SERPS).
More traffic for you means higher rankings! And when you build backlinks with strategically placed keywords, you'll see an increase in not only organic traffic but also conversions (which means more money).
However, not all links are created equal.
Google recognizes this and will reward you for natural backlinks from within your niche.
Google, on the other hand, despises unnatural links that appear to be manipulative in nature (link schemes) and penalizes the sites that use them.
In a nutshell, link building is the process of obtaining backlinks from websites and blogs that have a natural relationship with your target audience.
When it comes to link building, there are three factors to consider:
The ranking authority of the site that is linking back to your website or blog is referred to as link authority.
Using Ahrefs' Site Explorer, you can determine a domain's authority.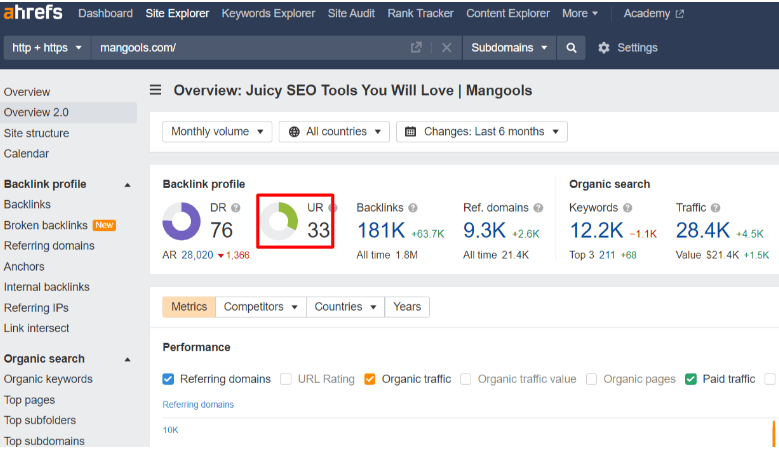 To summarize, the higher the authority of the site linking back to you, the better.
It's extremely crucial that the content on your website or blog and the content of other websites and blogs (from which you're building links) are both relevant.
The topical relevance of a link is a good indicator of its quality.
If your website contains links from unrelated websites, it is more likely to be penalized for unethical link building practices.
However, if you build links from high authority sites that are relevant to your eCommerce site's niche, you will see a much higher return on investment (more traffic, higher rankings, and more conversions).
You want to build links from reputable websites. It is also the level of trust that Google's search engines have in your domain.
In general, adhering to Google's webmaster guidelines will assist you in developing a natural, trustworthy link profile.
If your site contains a high number of irrelevant or low-quality inbound links, you will experience the consequences of Google's penalty for manipulative practices.
E-Commerce Link-Building Tactics
It is common knowledge that creating links for e-commerce websites is difficult. Developing links for an eCommerce site presents some unique challenges, whether you're an SEO building links for a client or a website owner looking to increase the visibility of your site.
Issues such as
Extremely competitive markets

Increased impact of technological errors

Commercial orientation causes suspicion and mistrust

There is a scarcity of link-worthy pages and informative content
These factors increase the difficulty of creating links for these types of websites. Despite all of these issues, e-commerce link building is still very much possible; however, you must have the right expectations and goals in order to be successful.
It will be difficult (unless you are a well-known, significant company) to build links to your product pages and rank them for the most important terms.
For example, here are the organic results for [Television]: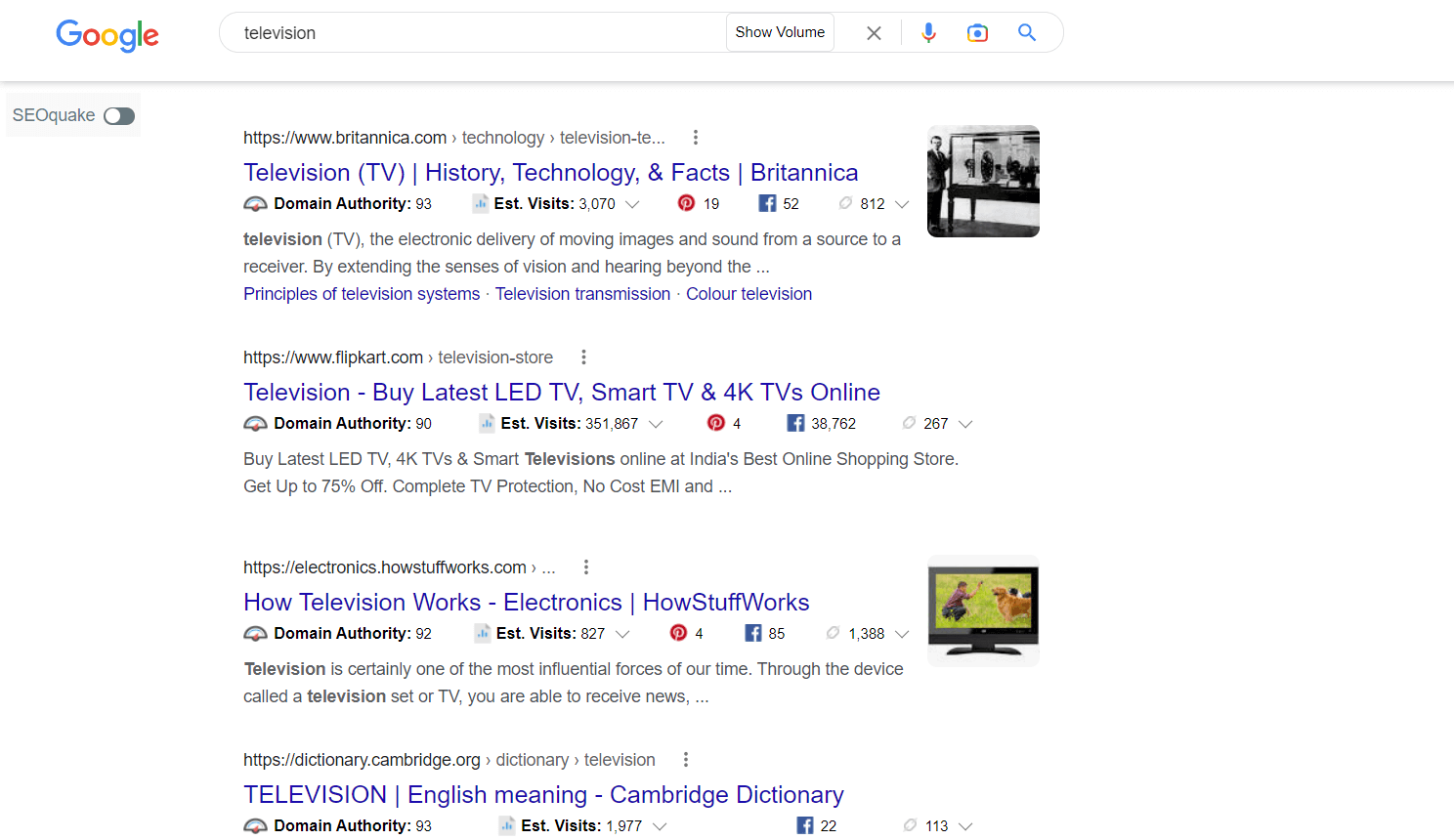 A small to medium-sized beauty eCommerce website will struggle to compete with Amazon, Flipkart, and Croma. Link building, on the other hand, can help smaller e-commerce businesses compete in certain niches and SERPs.
The key metrics that most eCommerce businesses should try to influence with link development are branding and awareness. Although link-building can indirectly increase sales (having more visitors can lead to more conversions), eCommerce link-building initiatives should not be judged based on the number of sales generated.
Rather than product pages that convert well, link acquisition efforts should be focused at educational pages that can expose top-funnel visitors to your brand. If you use outsource link building as a branding strategy to expand the audience for your website, you will be successful.
6 Ways to Build Links to Your ECommerce Store
If you want to build high-quality links, video marketing could be just what your eCommerce store needs.
It's critical to keep your target audience in mind when creating video content. Make your content interesting and engaging by personalising it to your audience.
You can accomplish this by producing how-to videos, humorous stories, or slapstick comedy (depending on the niche of your store).
Video content ranks well on Google. This means you may be able to get featured snippets for your videos.
Once you've gotten some traffic to your videos, make sure to check the analytics to see who embeds them on their website.
This can provide you with outreach opportunities to link back to your eCommerce store.
Additionally, you can use video content to conduct video outreach in order to obtain high DR backlinks.
Because this strategy is relatively unknown among eCommerce store owners, you will face little competition when attempting to rank your video content.
Read More:Youtube Automation Business
2. Use Shareable Content to Build Links
When you create share-worthy content, it's a win-win situation for your business.
Not only will you get more organic traffic from search engines from people sharing your awesome products, but you'll also get relevant links back to your eCommerce store!
One of the best ways to increase the chances of getting a high DR backlink is to craft a "how-to" or listicle article about how to use your product.
For example, if you are selling a smartphone case that has a unique feature, create an article that tells people how to take advantage of that specific feature.
You could even use Reddit to build links for eCommerce stores by participating in relevant subreddits and posting memes about your products. This content idea is applicable to almost any eCommerce store.
After you've created the content, it's time to find places to share it.
Read More:How to Become a Content Writer in 2023
3. Contacting Existing Partners
Every eCommerce store has some kind of connection that they can use.
Consider suppliers, loyal customers, local businesses, sponsored organizations, business directories, community pages, and so on… Don't be afraid or shy about trying to obtain backlinks.
You've probably heard it before, but the key is to provide value.
You can add value by thinking about and producing content that other businesses in your industry will find interesting and shareable.
4. Discovering Unconnected Mentions of Your Brand
In an ideal world, you'd have a list of all the websites that mention your brand.
The truth is, given how many resources exist on the internet that may mention your brand without providing a link to it, this could be quite time-consuming.
But don't worry, there is an easy way!
That is by using Google Alerts to find relevant brand mentions to your eCommerce store!
Set up alerts to monitor the web for mentions of your brand and easily track down the source and contact them to get a link back to your store.
Furthermore, Google Alerts can be used to monitor for any negative feedback, to which you can respond and attempt to reconcile.
This is an excellent way to not only generate additional links but also demonstrate to your customers that you value them and their opinions.
Donating to a cause is a great way to gain charitable branding as well as a link from that website.
Many charitable organizations have their own websites, and a link from those websites can provide you with a wealth of information.
They will gladly provide a link to your website as long as you donate something meaningful.
Donating to a worthy cause also demonstrates your company's concern for the well-being of others. Making your brand look fantastic.
6. Creating Content Assets With Influencers For Marketing Purposes
Influencers are people who have a large online following, particularly on social media.
You can use them to help you achieve your marketing goals as a brand by collaborating with them on content promotion.
This could include asking them to write a blog about your brand, share an Instagram photo, or post a product review on their YouTube channel.
You should do a good deed in exchange for collaborating with the influencer by providing value to them.
This will make it easier for you to collaborate with other influencers, resulting in the development of a strong reputation for your brand.
Here are 6 methods to make sure your online store receives more traffic and backlinks.
Keeping in mind that giving value is the most crucial aspect of this type of marketing.
So… How do you feel? I hope you found this essay useful, and if so, thanks. Share it with your friends and anybody else you know who might need it by clicking the button below.
Look at what we did there.
We can assist you if you need assistance with SEO link building. At VH-Info, we have a highly talented team.
We specialize in developing links using white hat SEO, and we can help your company rank. You may check out our client case studies online, so you know we get results.
We also provide a free link building strategy consultation during which we review your website and offer practical suggestions that can increase traffic, leads, and sales.
What say you, then? Let's speak soon.
Frequently Asked Questions (FAQ)
What is a natural backlink profile?
A website with a natural backlink profile would have links created from content that is relevant to your business. This indicates that the websites connecting to you do so because they consider your material to be important and engaging. Your SEO efforts will benefit more from the links you have from these websites because they will be given greater authority.
Is link building for ecommerce SEO still applicable in 2023?
Yes, link building for eCommerce SEO will still be important in 2023. In actuality, its significance has increased.
To give users the greatest experience possible, search engines' algorithms are always being improved. And one of the most crucial elements that goes into creating a positive user experience is having a dependable website with useful and relevant content.
Therefore, your website will perform better in search engine results pages (SERPs) the more high-quality websites link to it. More direct traffic as well as referrals from other websites will result from this. resulting in a higher return on investment for digital marketing activities.
Vishal Ambani
Writer Information
Vishal is a Founder & CEO of vh-info . He loves to talk about SEO, Link building and Digital marketing tactics. In his free time, he likes to read and stay updated on Link building. You can always reach out to Vishal on linkedin.