Marketing campaigns are one of the most effective ways to promote your brand and increase sales. A well-executed campaign can not only boost brand awareness but can also attract new customers and create a buzz around your product or service.
In this blog post, we will take a deep dive into the world of marketing campaigns. We'll start by defining what a marketing campaign is, why they are so important, and highlighting some of the best marketing campaigns in history. We will then share some examples of successful marketing campaigns that you know and love, analyzing each one's unique strategies that made them stand out from the rest.
Finally, we'll provide some tips for running a successful campaign of your own. Get ready to learn how to create an effective marketing campaign that will help you achieve your business goals.
What Is a Marketing Campaign?
A marketing campaign is a planned set of activities to promote a product, service, or company. The goal is to raise awareness and interest so more people will buy what you are selling. To do this, you need to understand your target audience and what matters to them. Then you create advertising, emails, social media posts, reels, and other materials to catch their attention and implement an effective advertising strategy. You select places to run ads and post content where your audience will see it. During the campaign, you watch how people respond and make changes to get better results. A marketing campaign is a great way to promote your business and incentive your audience to check out your business.
For example, you may test different messages or offers. The key is coordinating your efforts across different marketing channels to efficiently get the right message to the right people so they are more likely to buy your product.
Why Are Marketing Campaigns So Important ?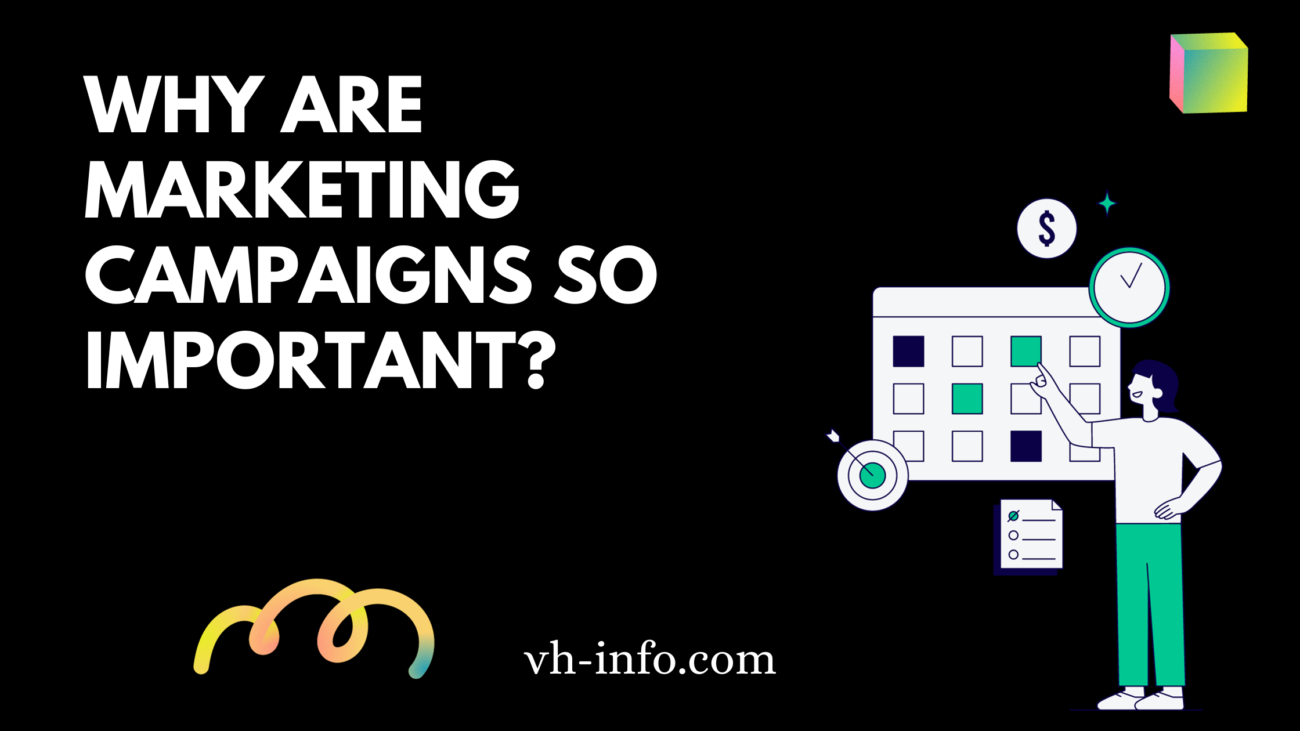 Marketing campaigns are like puzzle pieces that fit into a company's overall plan. They come in different shapes and sizes, but when done right, they all bring similar good results.
They Boost Brand Awareness
When you share your message using any form of advertising, you're introducing your brand to your audience. Over time, people will get to know your company and what you sell.
If your sales go up and customers like what you offer, they'll tell their friends and family about it, spreading the word even more.
A successful campaign gets people talking about your brand. If they're saying positive things, take advantage of the extra attention to support your campaign without extra cost.
They're Budget-Friendly
Unless you're thinking of showing a new ad on the big screen at Yankee Stadium, you can keep your campaign costs down.
The digital things, like pictures and words, that you use to create your message can be used in different campaigns and shared on different platforms. This way, you save money because you don't have to make the same content, images, and much more than once.
They Attract New Customers
A fantastic marketing campaign that connects with people on different platforms will get a lot of positive attention.
Imagine if you saw a commercial while doing the dishes, you might not remember it. But if you later see another ad from the same campaign on your Instagram, you'll start to recognize the brand.
If you see it again and the product interests you, you might want to check it out. Then, you might end up making a purchase.
Online marketing allows you to reach a bigger group of customers, and the right campaign will bring them in.
Best Marketing Campaigns of All time :  26 Examples You Know and Love
Over the years, there have been a lot of marketing campaigns in the world. Not all of them did great, but some were so successful that they're still around.
Let's take a look at some of our favorite marketing campaigns of all time.
1. Nike: The "Just Do It" Campaign
Nike's "Just Do It" campaign, launched in 1988, is a shining example of effective marketing. The bold and straightforward slogan has become synonymous with the Nike brand worldwide, gracing their products along with the famous Swoosh logo. The power of this slogan lies in its broad appeal, allowing people to connect it with their own lives.
This inclusivity contributed to the campaign's success over three decades ago and continues to resonate with a wide audience. In just a decade, Nike's sales more than doubled from $800 million to over $2 billion, demonstrating the enduring impact of the "Just Do It" message.
2. Apple: The "Get a Mac" Campaign
Apple's "Get a Mac" campaign, which ran from 2006 to 2009, is regarded as one of the most iconic brand development marketing efforts in the United States. With a total of 66 spots, this campaign was both straightforward and impactful, thanks to the creative minds at TBWA\Media Arts Lab, the advertising agency responsible for all of Apple's advertising. It managed to be entertaining and informative, and it played a significant role in shaping Apple's Mac into the renowned brand it is today.
3. L'Oréal: Because You're Worth It
The famous L'Oréal "Because You're Worth It" campaign, initially created to do more than promote the brand, aimed to support women. For over 50 years, it has been promoting women's health and beauty, achieving its mission of celebrating and empowering women.
This campaign, introduced in 1971, was one of the first to emphasize self-confidence and women's strength. Its heartfelt message has been shared in 40 languages worldwide, ensuring empowerment for everyone. Notably, various celebrities like Kate Winslet, Eva Longoria, Helen Mirren, and Camilla Cabello have represented this empowering message over the years.
4. Pepsi: The "Is Pepsi OK?" Campaign
Pepsi's 2019 campaign, featuring Steve Carell, Lil Jon, and Cardi B during the Super Bowl, brought together some big celebrity names to settle the age-old debate of whether Pepsi is a good choice.
In the ad, when a customer orders a Coke, and the waiter asks, "Is Pepsi OK?" These famous faces step in to assert that Pepsi is not just okay, it's great. The ad highlighted the frustration of Pepsi lovers constantly being asked if it's okay and emphasized that millions of people genuinely enjoy Pepsi.
5. Oreo: Dunk In The Dark Campaign
In 2013, during the Super Bowl, there was a big power outage in the Mercedes-Benz Superdome. Oreo, the cookie company, took advantage of this situation with a clever social media campaign. They tweeted a picture of an Oreo in the dark with the words "You can still dunk in the dark." The caption said, "No power? No problem."
This simple tweet became a huge hit with thousands of likes and retweets. What's interesting is that this campaign didn't involve expensive ads or a big marketing plan; it was a low-cost, spontaneous idea that worked really well in recent years, proving that you don't always need to spend a lot to be successful.
6. IHOP: The "IHOb" Campaign
In 2018, IHOP (International House of Pancakes) launched a controversial marketing campaign called "IHOb" where they temporarily changed their name and claimed it stood for "International House of Burgers." This new campaign was intended to promote their line of burgers and reposition the IHOP brand as more than just pancakes. They heavily teased the name change on social media before announcing it with ads showcasing their burgers.
The campaign generated a lot of buzz and discussion, with some praising the bold tactic but others criticizing it as confusing. After just a few weeks, IHOP changed its name back to IHOP, having achieved its goal of awareness and publicity for the new burgers. Though short-lived, the "IHOb" campaign exemplified a creative, risk-taking approach to shake up brand perception.
7. Absolut Vodka: The "Bottle" Campaign
Absolut Vodka's "Bottle" campaign, which started in 1980 and ran for 25 years, turned their distinct bottle shape into a worldwide symbol of sophistication and culture. Through 1,500 creative and wordless ads, it showcased the bottle in various imaginative settings, representing themes like infinity and nature.
This brilliant visual storytelling helped Absolut grow from a 2.5 percent market share to importing 4.5 million cases annually, capturing half of the vodka market and establishing its bottle as one of the most recognized in the world. This remarkable and long-lasting campaign, known as the "Bottle" campaign, is celebrated for its innovative style and use of print ads, making it a standout example in marketing history that evokes an emotional response from its audience.
8. California Milk Processor Board: The "Got Milk?" Campaign
The "Got Milk?" campaign, which began in 1993, is celebrated as one of the most successful marketing efforts ever. It used a catchy "Got Milk?" slogan and ads with famous people sporting milk mustaches to make people think about milk when they ran out.
This campaign not only made milk part of everyday life but also united California's milk companies to promote milk together. "Got Milk?" reversed the decline in milk consumption, won many awards, and ran for over 20 years with updates to keep it interesting. It showed how a simple, unifying idea and clever execution can work wonders.
9. Red Bull: The "Stratos" Campaign
The Red Bull Stratos campaign is a modern marketing marvel! A skydiver named Felix Baumgartner took a daring leap from 24 miles above the Earth's surface in New Mexico. He free-fell for over six minutes and then used his parachute to come back down.
This adventure was not only thrilling but also incredibly smart marketing because it became one of the most-watched live events on the internet. Red Bull used this incredible feat to capture the world's attention and show their brand's adventurous spirit.
10. McDonald's: I'm Lovin' It
Although McDonald's has been around since 1955, their famous "I'm Lovin' It" slogan didn't appear until 2003. The message behind it is all about making delicious and feel-good moments easy for everyone. This catchy slogan was a great fit because it made people feel that McDonald's was a part of their daily lives.
Its simplicity and easy adaptability to different languages also helped boost global brand recognition. McDonald's iconic golden arches logo, the big M, is known all over the world, and it's featured prominently in many of their marketing campaigns, including the one from 2021. It's a simple yet effective brand symbol that sticks in people's minds.
11. Marlboro: The "Marlboro Man" Campaign
The Marlboro Man ads began in 1955 and were a very strong but also controversial marketing campaign in the 20th century. These ads portrayed the rugged, independent spirit of the American cowboy, and they helped make Marlboro one of the best-selling cigarette brands worldwide.
12. Dos Equis: The "Most Interesting Man in the World" Campaign
Before the "Most Interesting Man in the World" campaign in 2006, beer ads often focused on getting the right beer to impress women. But Dos Equis changed the game by portraying their beer as the choice for the sophisticated drinker.
The famous line, "I don't always drink beer, but when I do, I prefer Dos Equis," drove home the message that Dos Equis was the beer for those who appreciated quality and had played a game online in the last month with their real-life friends.
13. Just Eat: Did Somebody Say Just Eat
This year, Just Eat partnered with Katy Perry to create a memorable ad. They came up with a catchy song featuring the line, "Did somebody say Just Eat," which is like saying, "Did someone mention getting a takeaway?"
It's a clever play on words since Just Eat is known for providing takeaway orders and delivery. Despite probably having a big marketing budget, this campaign shows that a catchy tune and a clever twist on words can make sure people won't forget Just Eat.
14. Progressive Insurance: The "Flo" Campaign
Before 2008, insurance ads were often dull or overly sentimental. Then came Progressive's "Flo." With over 100 commercials, she became a pop culture icon and transformed how insurance is advertised, making it much more engaging and memorable.
15. Cadbury's: Gorilla
The Cadbury's gorilla commercial from 2007 is quite memorable. It featured a gorilla playing the drums to Phil Collins' song 'In the Air Tonight.' The ad ended with the message "a glass and a half full of joy," suggesting that eating Cadbury's chocolate brought happiness. Even though it was a bit unusual, it became the UK's favorite ad according to Marketing Magazine.
Surprisingly, the director initially faced rejection but later got approval from the team, showing that an unconventional, emotionally resonant campaign can be highly effective. This ad's combination of creativity, a catchy song, and a realistic gorilla made it a hit and boosted Cadbury's profits.
16. Dove: The "Campaign for Real Beauty" Campaign
In 2004, Dove launched its "Campaign for Real Beauty" to change the way we think about beauty and celebrate women's natural bodies.
The campaign used various forms of media, including viral videos and ads, featuring diverse and non-stereotypical models. It aimed to challenge the unrealistic beauty standards set by the fashion industry and promote natural beauty and body acceptance, ultimately leading to a huge success for the brand.
While some people criticized Dove for not fully living up to their message, most saw it as a positive response to traditional beauty advertising. The campaign created a lot of attention for the brand and established Dove as a champion of body positivity and women's empowerment. It's still remembered as one of the most significant cause-related marketing campaigns.
17. Kay Jewelers: The "Every Kiss Begins with Kay" Campaign
In 1985, Kay Jewelers introduced the famous slogan "Every Kiss Begins with Kay," which has become one of the most recognizable taglines in advertising. This slogan suggests that if you buy from Kay, love will follow. With a 98% brand awareness rating and over $1.5 billion in annual sales, Kay Jewelers is the leading retail jewelry chain in North America.
The "Every Kiss Begins with Kay" campaign, which ran in the early 2000s, was heavily promoted through TV commercials and print advertisements and helped to solidify Kay Jewelers as the go-to destination for engagement and wedding rings.
They've come a long way since their first store in 1916, where they offered a variety of items alongside jewelry gifts. This slogan has made Kay Jewelers a go-to destination for romance and diamonds, and it's widely recognized and quoted when talking about jewelry.
18. Chipotle: The "Back to the Start" Campaign
Chipotle's "Back to the Start" campaign is a 2012 animated film that takes a critical look at factory farming. It's part of their "Cultivate A Better World" effort and tells the story of a farmer who shifts from running a family farm to turning it into an industrial one, only to realize there must be a better way.
The film features Willie Nelson singing Coldplay's "The Scientist" and was created by CAA Marketing and Nexus Studios. It received awards and recognition, including the Grand Clio in Film and being named the best TV campaign at Cannes. This campaign underscores the importance of building a sustainable food system, aligning with Chipotle's commitment to serving fast food made from high-quality, ethically sourced ingredients.
It began as an introduction to their loyalty program but became a widely celebrated national advertisement during the 2012 Grammy Awards, marking a shift in the era of "branded content."
19. Domino's: Domin-oh-hoo-hoo
In 2021, Domino's in the UK and ROI launched an ad campaign aimed at their main customer base – friend groups. Since many people order Domino's together to take advantage of deals, this approach is a smart way to attract more customers.
The campaign introduced a group ordering feature on their app, letting friends pick their order individually and send it to the person placing the order, saving time and avoiding menu-scrolling delays. It's a practical and customer-focused move by Domino's to enhance the group ordering experience.
20. Budweiser: The "Wassup?" Campaign
Budweiser's "Wassup?" campaign, which ran from 1999 to 2002, made a huge impact with just one word. It started with a short film called "True" and featured a group of friends calling each other while watching sports and playfully saying "Wassup?"
The campaign turned into a pop culture sensation and set the stage for viral ad hits. It all began with a simple, funny inside joke and became a widely recognized catchphrase, making "Wassup?" one of the most memorable ads of the early 21st century.
21. Red Bull: Red Bull Gives You Wings
Red Bull's famous slogan, "Red Bull gives you wings," delivers a clear message that their energy drink provides the vitality needed to tackle tasks or make it through the day. Over the years, this slogan has become synonymous with the brand and is frequently used in their marketing.
It's typically linked to commercials showing individuals taking on intense challenges, like skydiving, with the underlying idea that Red Bull gives them the energy and confidence to handle those situations. Their consistent use of this micro marketing strategy has been effective for over 30 years, helping to establish and maintain their brand's prominence.
22. BMW: The "The Hire" Campaign
BMW's "The Hire" campaign, launched in 2001 and 2002, was a groundbreaking online marketing effort. It featured eight short films created by well-known filmmakers and starring famous actors. BMW aimed to attract the right online audience, particularly those who appreciate art films, as part of their digital marketing campaign.
The campaign was a major success, highly sought after by fans, and precisely reached BMW's target audience – BMW owners and Luxury Intenders. It set a benchmark for branded content marketing and showcased the power of online promotion through the use of a search engine.
23. We Buy Any Car: Just Sold My Car
We Buy Any Car's advertising campaigns have a knack for catchy tunes that become associated with the brand.
The "Just Sold My Car" commercial, featuring a remake of the song 'Friday' by Riton & the Nightcrawlers, cleverly rode the wave of the original song's viral popularity to make their brand go viral too.
It's fun, memorable, and aligns with their goal of creating lighthearted and distinctive advertising. Their approach, which aims to put a smile on people's faces, certainly seems to have hit the mark with this commercial.
24. Snickers: You're Not You When You're Hungry
The Snickers "You're Not You When You're Hungry" campaign cleverly conveys that hunger can make people act out of character and not fit into a specific group. The solution presented in their ads, including their latest ad showcasing their limited-edition product, is to eat a Snickers bar, which helps you return to your normal self and fit in with the group.
These commercials, featuring celebrities like Betty White and Willem Dafoe, achieved remarkable success. Sales increased by 15.9% in the first year and soared by $376 million over two years, showcasing the effectiveness of this humorous and relatable marketing approach.
25. Coca-Cola: Holidays Are Coming
Coca-Cola's "Holidays Are Coming" commercial, introduced in 1995, is a classic that has stood the test of time. With a memorable holiday tune, festive trucks, and a simple message about family and togetherness, this ad has marked the beginning of the holiday season for over 25 years. Its enduring appeal lies in its ability to evoke the spirit of the holidays and create a sense of joy and unity.
26. M&M's: Bedroom Affair
In 2018, M&M's created an ad called "Bedroom Affair" that took a cheeky approach. In the ad, a man comes home and hears laughter from his closed bedroom.
When he opens the door, he discovers his wife in bed with someone else, and the ad playfully blames the red M&M for the "cheating." M&M's has a history of producing ads with a hint of naughtiness, including ones about arguments over eating chocolate in bed and the popular "Tainted Love" ad from 2008. These ads use humor and playful situations to create memorable and entertaining marketing.
How Do You Run a Successful Marketing Campaign?
To have a good marketing campaign, follow these simple steps:
Figure out what you want to achieve.

Decide how much money you can spend.

 

Know who you want to reach with your message.

Make your marketing materials.

Pick where you want to show your campaign.
Start the campaign and watch how it's doing.
 Look at the results and remember what you learned for next time.
FAQ's:
What Made These Marketing Campaigns Successful?
To make a marketing campaign work well, you need various things, such as:
            Targeted the right audience: The campaigns focused on understanding and reaching a specific target audience that would be most receptive.
            Increased brand awareness: Memorable messaging and creative content significantly boosted brand familiarity and associations.
            Engaged consumers emotionally: Rather than just listing product features, the campaigns connected with consumers' emotions and desires.
            Consistent core message: All marketing elements aligned around a unifying concept, slogan, or story that stuck in people's minds.
            Stood out from competitors: The campaigns were bold and unique enough to grab attention in crowded marketing environments.
            Told compelling stories: They focused on storytelling and relatable narratives that made audiences engaged and care.
            Memorable content: Creative, catchy, and entertaining ads and content made the campaigns "unforgettable" and buzzworthy.
            Provided motivation to buy: Messaging gave target audiences good reasons to purchase, rather than just raising general awareness.
            Coordinated strategy across channels: Campaigns utilized combinations of print, TV, online, and other channels to reach audiences effectively.
            Flexibility to optimize: Marketers continually fine-tuned messaging and strategies based on data to improve results.
How do you measure the success of a marketing campaign?
There are several key metrics used to measure the success of a marketing campaign:
            Sales/Revenue Growth – The ultimate goal is to drive sales and revenue. Tracking sales numbers during and after the campaign determines its impact on the bottom line.
            Return on Investment (ROI) – Calculating the ROI of the campaign based on the results achieved versus the costs invested. A positive ROI means the campaign was profitable.
            Traffic Growth – Monitoring increases in website traffic, app usage, phone inquiries, and other relevant traffic sources. Higher traffic indicates the campaign's ability to drive engagement.
            Lead Generation – Measuring the number of new leads captured through campaign landing pages, sign-up forms, etc. More leads indicate greater consumer interest.
            Brand Awareness – Surveying target audiences before and after the campaign to assess increases in brand familiarity, perceptions, and associations.
            Social Media Engagement – Analyzing growth in followers, shares, mentions, engagement rate, and other social metrics. This demonstrates audience reach and resonance.
            Campaign Elements Performance – Individual metrics for specific campaign elements like click-through rates on ads, open/click rates on emails, referral traffic from various channels, etc.
What are some examples of marketing campaigns that failed and why did they fail?
Several marketing campaigns have faced failure for various reasons.
Examples include Pepsi's commercial featuring Kendall Jenner during a protest, Dove's controversial Facebook video, Airbnb's ill-timed "floating world" campaign during a hurricane, Huggies making fun of fathers, Bing's attempt to turn itself into a verb, Audi's insensitive comparison of women to used cars, and more.
The common factors contributing to these failures often include unclear objectives, unrealistic expectations, budget constraints, poor strategy development, external factors, and poorly designed program and behavioral objectives. These campaigns highlight the importance of careful planning and sensitivity to cultural and social issues in marketing.
What are some key elements to consider when creating a successful marketing campaign?
To make a successful marketing campaign, think about these important things:
            Who You're Talking To: Know the kind of people you want to reach, what they like, and what they need.
            What You Want to Achieve: Set clear goals that match your business plan, like getting more people to know your brand or visit your website.
            What You Say: Make sure your message fits with your goal and stands out.
            How Much You Can Spend: Decide how much money you can use for online ads, professionals, and tools.
            A Plan: Make a plan that says what you want to do, when you'll do it, how much it'll cost, and what you need.
            Checking How Well It Works: Keep an eye on how your campaign is doing and be ready to change things if they're not working.
Other important things include having a unique value that makes you different, using the right ways to talk to people, having a clear brand identity, and being ready to change your plan if you need to.
Conclusion
In conclusion, the success of a marketing campaign lies in capturing the attention and interest of the target audience.
By implementing strategies that boost brand awareness, attract new customers, and maintain a budget-friendly approach, companies can create impactful campaigns that leave a lasting impression. The best marketing campaigns of all time, such as Nike's "Just Do It" and Apple's "Get a Mac," have proven the power of storytelling and emotional connection.
By studying these successful examples, businesses can learn valuable lessons and apply them to their own campaigns. So, whether you're a small startup or an established brand, remember that a well-executed marketing campaign can make a significant difference in achieving your business goals.