PlanNet Marketing has been creating quite a buzz in the network marketing industry. Some people have gone as far as calling it a pyramid scheme, while others swear by its legitimacy. So, what exactly is PlanNet Marketing? Is it a get-rich-quick scheme?
In this blog post at VH-info, we will explore what PlanNet Marketing is and how it works. We will also discuss whether you can make money with it and if it's a legitimate business opportunity. Additionally, we will delve into the PlanNet Marketing compensation plan and assess its pros and cons.
Finally, we will answer some frequently asked questions about the company to help you make an informed decision about whether or not to join. Read on to learn more about PlanNet Marketing and unveil the truth behind this business model.
What Is PlanNet Marketing?
PlanNet Marketing is a travel service company that operates using a Multi-level Marketing (MLM) business model in collaboration with InteleTravel. Founded in 2015 by Donald "Don" Bradley, it offers discounted travel services and a travel business opportunity where you can earn money by selling their products and recruiting others. Through this partnership with InteleTravel, you can become a Plannet Marketing travel agent, offering a range of travel-related services such as flights, cruises, hotels, and more to clients while earning commissions on sales. PlanNet Marketing doesn't sell these services directly; instead, you can join as an agent and earn commissions on your sales and those of your recruits in a multi-level system. In this PlanNet Marketing review, we will take a closer look at the company and its business model to determine if it is a legitimate opportunity or a pyramid scheme.
Who Owns PlanNet Marketing?
PlanNet Marketing is owned by its founders, Andy Cauthen and Don Bradley. Don Bradley is the CEO of the company, while Andy Cauthen holds the positions of president and chief financial officer. Both individuals bring with them experience in the field of marketing and business, having pursued their entrepreneurial ventures before establishing PlanNet Marketing. Despite their pasts, they have proven to be successful network marketers, possessing the knowledge and expertise necessary to lead a Travel MLM Company.
How PlanNet Marketing Works?
PlanNet Marketing operates as an additional layer on top of the travel company InteleTravel.
To make money with PlanNet Marketing, you have two options:
            Sign up as an InteleTravel Agent (ITA) and earn commissions on the travel sales you make.
            Become an affiliate and recruit others to join the business opportunity through you, earning commissions on their sales.
It's important to understand that PlanNet Marketing itself doesn't directly sell travel services; that's done by InteleTravel.
Instead, by signing up with InteleTravel as an agent, you can make commissions on the travel services you sell. PlanNet Marketing provides an opportunity to earn commissions not only from your sales but also from the sales of the people you recruit into the program.
To become an ITA, you'll need to pay a one-time fee of $179.95 and a monthly fee of $39.95. As an ITA, you can earn commissions ranging from 70% to 80% on the sales you generate and receive a $50 bonus for recruiting other agents.
Can you make money with PlanNet Marketing?
Earning money through PlanNet Marketing can be tough. Only a few people manage to make a bit more than the minimum wage, and they are quite rare. They are often very outgoing and treat this as a full-time job rather than a part-time one.
However, the pay isn't much better than the minimum wage, which may not be worth the effort for many. Additionally, the income reports show that very few people are making substantial money with PlanNet Marketing.
How to make money with PlanNet Marketing?
Making money with PlanNet Marketing involves two main avenues:
     

Become an InteleTravel Agent:

You can earn by selling travel package deals as an InteleTravel agent. This means you earn commissions on the travel services you sell.

     

Become a PlanNet Sales Representative:

Another way is to recruit people and build a downline. However, it's important to note that you earn bonuses from the sales of your downline members, not just for recruiting them. This structure is designed to differentiate it from a pyramid scheme, where earnings primarily come from recruitment rather than product sales. Nevertheless, it's important to understand that the income potential is limited, as per their income disclosure statement, with the majority of representatives making a relatively small monthly income.
How much does it cost to join PlanNet Marketing?
To join PlanNet Marketing as a representative, the initial cost is $19.95, and you'll need to pay a monthly administrative fee of $19.95 or $39.95, depending on your package choice. This fee covers your access to a personalized PlanNet Marketing website, among other features.
However, to also own an InteleTravel business, you must first become a PlanNet Marketing Rep, which requires a one-time payment of $179.95. In your first month, the total cost will be $199.90, and afterward, it's $59.90 per month for administrative fees. While this can be a costly investment for new ITAs (InteleTravel agents), it's important to note that there's no guarantee of making money with the company. Additionally, as a PlanNet Rep, you will have access to your own virtual office on the company's website, as well as the opportunity to build a network of independent InteleTravel agents for additional commissions on every single transaction.
PlanNet Marketing Monthly Cost
PlanNet Marketing doesn't require a specific sales quota, but there's a monthly administration fee of $39.95 to stay active. So, in a year, this fee adds up to $479.4. The minimum annual costs for being a PlanNet Marketing representative, including the initial fee of $179, would be between $418.4 and $658.4, depending on your monthly administration fee and access to the PlanNet Marketing mobile app. Keep in mind that this doesn't cover additional expenses like travel, marketing, training, and other miscellaneous costs, which can further increase your overall expenses.
PlanNet Marketing Compensation Plan
When someone books a trip through your portal, you get a commission. Plus, a big part of this business is getting others to become Independent Travel Agents (ITA) through you.
You can also earn money by selling ITAs as part of InteleTravel, thanks to PlanNet Marketing's network of independent travel agents. If you build a team of PlanNet Reps, you can make more money through override commissions and other bonuses.
Let me give you a basic summary of what PlanNet Marketing provides to its members:
Direct Sales Commission To The Selling Rep
When people book travel through your Independent Travel Agency (ITA), you can usually earn a commission of 70% to 80%.
Direct Sales 50% Match To The Sponsor
When you recommend a new member to join as an Independent Travel Agent (ITA), you'll earn $50. If your referral not only joins but also gets a 50% matching incentive, you'll receive $25 in that case.
Gold Builder Bonus
As you move up in the ranks, you'll receive bonuses. If there are other Gold Builders below you, you'll get $10 in bonus money for each ITA sale you make.
Monthly Matrix Payout To Selling Rep
Each month, you and your recruits, along with others in the program, pay monthly fees to stay active. Because of this, you'll get a $4 incentive every month. There are nine levels for this bonus, and you can earn these rewards from the people you directly recruit in level one and those they bring in, and it continues down the line in the PlanNet Marketing affiliate hierarchy.
Director Bonuses
The more money you can make in their program depends on your rank. If your rank is higher, you'll make more money. As you go up in the ranks, you'll also get more bonuses and benefits.
How Many Countries Is PlanNet Marketing In?
PlanNet Marketing operates in more than 20 countries, including the United States, the United Kingdom, Mexico, the Bahamas, Jamaica, Panama, France, Martinique, Guadeloupe, and the Dominican Republic. Representatives market InteleTravel's product to people who want to earn income from their love of travel in these and other countries.
Is PlanNet Marketing A Pyramid Scheme?
No, PlanNet Marketing is not a pyramid scheme. In a pyramid scheme, money is primarily made by recruiting new members rather than selling actual products. However, PlanNet Marketing sells a product, specifically the InteleTravel home-based Independent Travel Agency (ITA) business. It operates as a legitimate multi-level marketing (MLM) company in the travel industry.
Is PlanNet Marketing a Scam?
No, PlanNet Marketing is not a scam in the sense that they do provide real travel packages and pay their members as they claim. However, it's important to understand that the business may not be as straightforward or financially rewarding as it appears. While it's not a fraudulent scheme, some people may be disappointed by unrealistic promises that can create misleading expectations about earning much money through the program. This discrepancy between expectations and actual results is a key reason why some individuals may label it as a scam.
Pros and Cons of PlanNet Marketing
Here is an overview of some of the key pros and cons to consider with PlanNet Marketing:
Pros:
     

Low startup cost of $49.95 with no inventory requirements.

     

Established company in business for over 25 years.

     

Provide training and support resources for distributors.

     

Weekly commissions paid on sales volume.

     

Residual income potential from team building.

     

Travel benefits and discounts through InteleTravel.

     

Membership includes personal website and marketing tools.

     

Global presence allows for international business.
Cons:
     

The initial expenses are quite expensive, and the monthly fee is even more costly.

     

Saturated market competing with many other MLMs.

     

Emphasis on recruitment over product sales is controversial.

     

Low-income potential for most distributors.

     

Time and dedication needed to build a team and sales.

     

Risk of straining relationships by pitching to friends/family.

     

High turnover rates reported for distributors.

     

Perception issues around multi-level marketing.

     

Complaints of misleading income claims during recruitment.

     

Need to sell and recruit consistently each month to earn.
Are There Alternatives To PlanNet Marketing?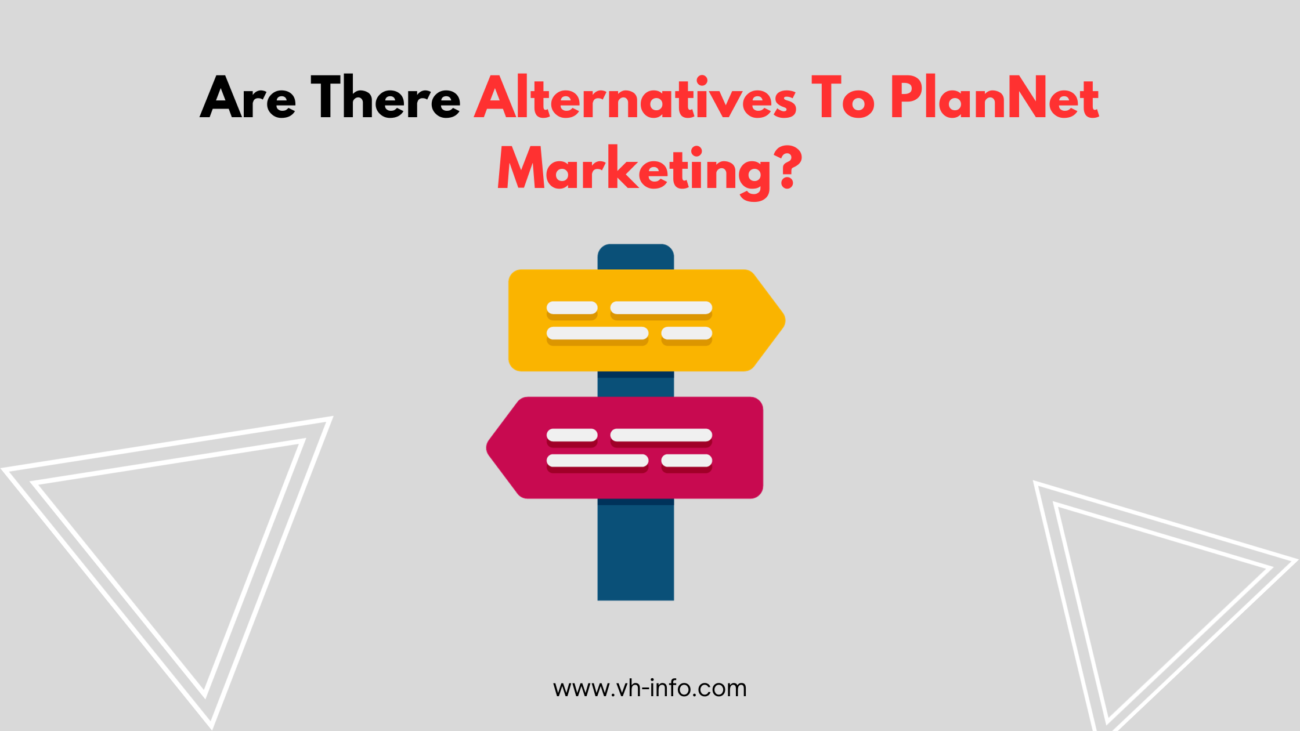 There sure are quite a few different network marketing or multi-level marketing (MLM) companies out there besides PlanNet Marketing. I'll touch on a few of the major ones.
     

Asea

is a health and wellness company selling nutritional supplements and personal care products. Their startup costs are around $50-500 for a product pack.

     

CTFO

sells CBD oil products and has a one-time fee of $20 to get started. So their upfront costs are pretty low.

     

LegalShield

provides legal insurance plans and identity theft protection. Their signup costs are $50-100 plus monthly service fees.

     

Vector Marketing

allows distributors to sell Cutco cutlery through in-home demonstrations. Initial startup fees are just $15 but you need to purchase a sample kit for hundreds more. Our guides on

what is vector marketing

and

is vector marketing legit

should be a good read if this interests you.

     

Prosperity of Life

sells training and personal development programs. It's around $150 to get your business going.
FAQ's:
Where is the headquarters of PlanNet Marketing?
PlanNet Marketing is located in Atlanta, Georgia, USA.
Should You Participate in PlanNet Marketing?
Participating in PlanNet Marketing may not be suitable for everyone, as the success rate is relatively low, with over 97% of participants failing to make a substantial income. Success in network marketing often requires specific skills and industry expertise, making it better suited for those with experience in the tourism sector.
However, it is worth noting that on average, active independent representatives worked only 2 hours per week and earned $154.14 for the entire year, according to the company's 2020 income disclosure statement.
Additionally, building trust and persuading people to book travel services can be challenging in today's online world where many plan their own vacations. While the company may offer discounts and deals, it's important to consider that they are not the only provider in the market. While success is possible, it's essential to be aware of the challenges and competition when joining PlanNet Marketing.
Is PlanNet Marketing a Trustworthy Business Opportunity?
PlanNet Marketing's trustworthiness as a business opportunity is questionable due to its heavy reliance on recruitment and building a sales team for higher commissions, which is a characteristic of pyramid schemes according to the Federal Trade Commission.
While it does allow retail customers to purchase travel services, the emphasis on recruiting and building a sales team over actual product sales raises concerns for a lot of people. The business model may not align with the expectations of a trustworthy opportunity, and more thorough research is advisable before considering participation.
Conclusion
In conclusion, PlanNet Marketing is a multi-level marketing company that offers opportunities for individuals to earn income through selling travel packages and recruiting others into the business.
While some people have found success with PlanNet Marketing, it is important to consider the potential risks and challenges associated with this type of business model. It is crucial to do thorough research, understand the compensation plan, and evaluate whether it aligns with your goals and values.
Additionally, it is advisable to consider alternatives and explore other business opportunities that may be better suited to your interests and aspirations. Ultimately, the decision to join PlanNet Marketing or any similar company should be based on careful consideration and an understanding of the potential risks and rewards involved.