In today's fast-paced world, many women are looking for ways to earn extra income and take control of their financial future. 
Whether you're a stay-at-home mom, a full-time employee looking for a side gig, or just someone who wants to explore new opportunities, side hustles can be a game-changer.
In this VH-info's blog post, we'll explore some of the best side hustles for women that can help you make money on your own terms. 
From freelance writing to starting an online store, there are endless possibilities out there.
So grab a cup of coffee and get ready to discover your next hustle!
Side Hustles for Women
Side hustles for women can be a great way to earn extra income, gain financial independence, and explore your passions.
Here are some side hustle ideas that are particularly suitable for women:
Freelance Writing:

If you have strong writing skills, consider freelance writing for blogs, websites, or magazines. Content creation is in high demand, and you can find opportunities in various niches.

Virtual Assistance:

Many businesses need virtual assistants to help with tasks like email management, scheduling, and data entry. This side hustle offers flexibility and can be done from home.

Proofread for businesses:

Proofreading documents is an easy, flexible side gig for someone with strong writing skills. You can make extra money offering proofreading services to businesses to check and correct documents for spelling, grammar, and formatting errors before publication.

Handmade Crafts and Etsy Shop:

If you enjoy crafting, you can create and sell handmade jewelry, home decor, or other crafts on platforms like Etsy. It's a great way to turn your hobbies into a profitable venture.

Blogging:

Start a blog in a niche you're passionate about and monetize it through affiliate marketing, sponsored posts, or selling digital products. It may take time to build an audience, but it can be a rewarding long-term side hustle.

Pet Sitting or Dog Walking:

If you love animals, consider offering pet sitting or dog walking services in your local area. Many pet owners are willing to pay for someone they trust to care for their pets.



Photography:

If you have photography skills and equipment, offer your services for events like weddings, family portraits, or real estate photography. You can also sell your photos on stock photography websites.

Freelance Graphic Design:

Graphic design is a skill in high demand, and many businesses and individuals are looking for talented designers to create logos, social media graphics, and more.

Meal Prep and Catering:

If you're a great cook, you can start a small catering business or offer meal prep services. Many people are willing to pay for convenient, home-cooked meals.

Consulting or Coaching:

If you have expertise in a particular field, such as career coaching, fitness, nutrition, or personal finance, consider offering your services as a consultant or coach.

Social Media Management:

Many businesses need help with their social media presence. If you're skilled in social media marketing, you can offer your services to manage and grow their online profiles.

Etsy Printables:

Create and sell digital printables on Etsy, such as planners, calendars, or wall art. It's a low-overhead business that can generate passive income.

Virtual Yoga or Fitness Classes:

If you're a certified yoga or fitness instructor, offer virtual classes to a global audience. You can use platforms like Zoom or offer pre-recorded sessions.

Become a bookkeeper:

Bookkeeping is an easy side hustle for someone who enjoys working with numbers and finances. You can make extra money keeping the financial records of small businesses – tracking income, expenses, invoices, payroll and more. Bookkeeping services are always in demand if you have the skills.
Easy side hustles for Females
Any female can find simple side hustles that work for her situation.

Here are some relatively easy side hustle ideas for females to consider:

Resell on Amazon –

You can make extra cash buying discounted or clearance items from local stores, then reselling them for a profit on Amazon. It's an easy way to earn money if you have an eye for spotting valuable products to flip online.

Rideshare driving –

Driving for Uber or Lyft allows you to work when you want and earn decent income.

Food/grocery delivery –

With apps like DoorDash, GrubHub or Instacart you can deliver food or groceries on your own flexible schedule.

Tutoring –

If you have knowledge in academic subjects, tutoring students can be an easy side gig. Can be done locally or online.

House/apartment cleaning –

Offer general cleaning services for homes and apartments. Flexible hours and steady demand.

Babysitting/nannying –

Caring for kids is something many women inherently enjoy. Set your own hours.

Direct sales companies –

Sell products for companies like Avon, Tupperware, Rodan + Fields. Flexible schedule.

Transcription services –

Transcribe audio files to text documents with just a computer and headphones.
Ways for Females to make Money Online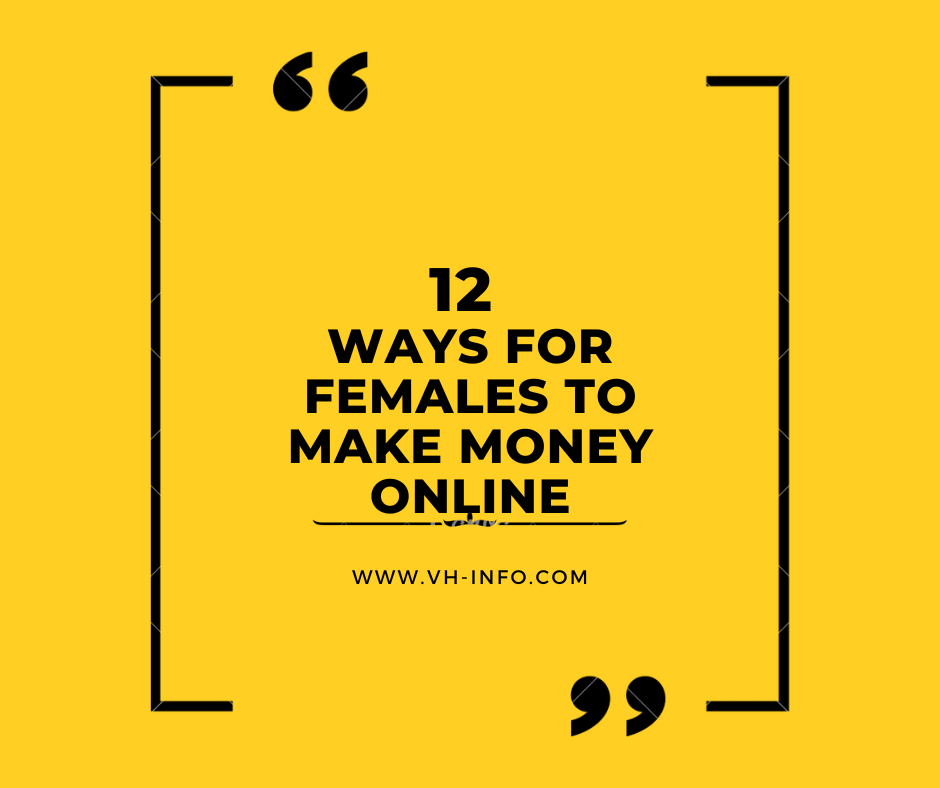 There are numerous ways for females to make money online, offering flexibility and the opportunity to pursue various interests and skills. 
Here are some options:
Content Creation:

Create and share content on platforms like YouTube or TikTok. You can make money through ads, sponsorships, and affiliate marketing once you build an audience.

Affiliate Marketing: Promote products or services through affiliate marketing on your blog, social media, or YouTube channel. You earn a commission for each sale made through your referral links.
E-commerce:

Start an online store selling physical products through platforms like Shopify, WooCommerce, or Etsy. You can create your own products, dropship, or source from wholesalers.

Dropshipping:

Set up an e-commerce store without keeping inventory. With dropshipping, you partner with suppliers who handle the product fulfillment.

Online Surveys and Market Research:

Participate in online surveys and market research studies on websites like Swagbucks, Survey Junkie, and Pinecone Research to earn rewards or cash.

Remote Customer Service:

Work as a remote customer service representative, helping customers with inquiries or issues via phone, chat, or email.

Remote Data Entry:

Many companies hire remote data entry workers to input and manage data, which can often be done from home.

Transcription Services:

Transcribe audio or video content into text. There are various transcription platforms and freelance opportunities available.

Online Language Tutoring:

If you're fluent in a second language, offer online language tutoring services to individuals or groups.

Social Media Management:

Help businesses or individuals manage their social media presence by creating and scheduling posts, engaging with followers, and growing their following.

E-book or Online Course Creation:

Create and sell e-books or online courses on platforms like Amazon Kindle, Udemy, or Teachable.

Purchase or rent out real estate: Investing in real estate can generate ongoing income through rental payments and property value appreciation. You can start small by renting out a single property, or build a larger portfolio over time for greater earnings.
Unique Side Hustle Ideas for Women
Here are some unique and creative side hustle ideas for women:
Rent out formal dresses –

Many women have expensive formal gowns that just sit in the closet. Rent them out for proms, weddings, etc.

Floral arranging –

Leverage your design skills and sell floral arrangements for parties, weddings, etc. Or teach floral design classes.

Calligraphy –

Offer custom calligraphy services for wedding invitations, place cards, chalkboards, etc.

Become a virtual assistant –

Help clients with administrative tasks, email management, scheduling, etc.

Jewelry making –

Make and sell custom jewelry and accessories on sites like Etsy.

Organizing consultant –

Declutter and organize spaces for clients – from closets to garages.

Makeup artist –

Provide makeup services for weddings, proms, parties as a side business.

Personal stylist –

Offer your fashion eye to help clients overhaul their wardrobe and style.

Interior decorating –

Help people design and decorate homes if you have an eye for interior design.

Flipping furniture –

Source used furniture, refinish and reupholster, then resell for a profit.

Pet treat baker –

Bake and sell custom, healthy pet treats.

Rent out parking space –

Earn cash renting out an unused parking space near busy areas/events.

Rent Out Your Car –

Car owners can earn more money by putting their cars on Turo. It's a good way for moms who don't drive their cars much to make some extra cash.

Rent Out Kids Toys Or Equipment –

If you don't want to sell your children's old toys, you can let other kids use them at the Toy Library. It's a cool way for moms to earn money by sharing their kids' old stuff with other families.
Side Hustles for Moms
Here are some side hustle ideas for moms:
Freelance writing –

Moms can leverage their writing skills for freelance gigs, writing blogs, articles, web content, etc. Flexible schedule and can work from home.

Virtual assisting –

Help other businesses with admin tasks like email management, calendar management, data entry etc. Can make $15-$50/hour.

Tutoring –

Moms can tutor kids of all ages in academic subjects they are knowledgeable in. Can be done locally or online.

Childcare –

Provide babysitting or nannying services for other families. Schedule is flexible.

Direct sales companies –

Sell products for companies like Rodan + Fields, Scentsy, Tupperware. Earn commissions and you can work hours that fit your schedule.

Rental hosting –

Rent out a spare room or your whole house when traveling as an Airbnb host.

Pet sitting/dog walking –

Great side gig for moms who love animals. Walk dogs or host pets when owners are away.

Bookkeeping –

Offer bookkeeping services for small businesses if you have accounting skills/experience. Can be done remotely.

Social media management –

Help businesses grow their social media presence and engage with customers online.

Handmade crafts –

Sell handmade jewelry, soaps, candles, artwork on sites like Etsy.
The key is finding something that fits with your existing skills and schedule. Having a side hustle gives moms extra income potential!
FAQ's:
How can I make an extra $2000 a month?
Pick up a part-time job working 20 hours a week at $15 per hour. That's $600 extra dollars a month working just a few hours a week. Spend 10 hours a week doing food delivery with DoorDash or UberEats and make around $500 per month in fares and tips. Tutor students in your free time for $20 per hour – just 5 hours a week equals $400 more dollars. Sell handmade crafts or other items on Etsy to bring in $200-500 per month working on your own schedule. Driving for rideshares, freelance writing, and pet sitting can all add a few hundred more. With just a few consistent side hustles, making an extra $2000 is very achievable.
How to make an extra $1,000 a month side hustle ?
Here's a simple way to make an extra $1,000 a month from a side hustle:
Pick up some weekend or evening shifts driving for Uber or Lyft. Working just 15-20 hours over the month giving rides can bring in around $1,000 extra dollars. Or you can deliver food orders with DoorDash or UberEats – you can make $15-20 per hour working a few hours a week. If you're good with pets, offer dog walking or pet sitting services in your neighborhood for $15-20 per walk – just taking 2-3 dogs regularly can make $1,000 per month. Tutoring students in math, science or other subjects can also generate over $1,000 monthly tutoring 5-10 hours a week. The key is finding a flexible gig that works with your schedule – driving, delivery, pet care or tutoring are all easy options to earn an extra $1,000 monthly as a side hustle.
Conclusion
There are countless side hustle opportunities available for women looking to make some extra money. 
Whether you're a mom looking to earn income from home or a female entrepreneur wanting to explore new avenues, there is a side hustle out there for you. 
From freelance writing and virtual assisting to starting an online store or becoming a social media manager, the possibilities are endless. 
With determination and hard work, you can easily earn an extra $2000 or even $1000 a month through your side hustle. 
So don't wait any longer – choose a side hustle that aligns with your skills and interests, and start making money today!